Follow the brown signs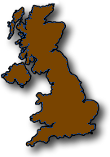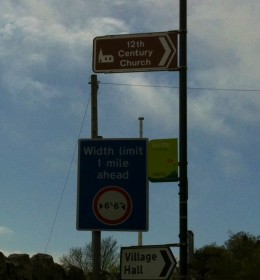 Recently I was contacted by a very nice chap at the Churches Conservation Trust, this organisation does exactly what you think it does, helps to maintain hundreds of churches in need of restoration and conservation around England. He told me he'd recently been driving to a meeting in Suffolk and discovered a "gorgeous hidden gem" of church by following a little brown tourist sign. As a total history geek obsessed by all things old I too especially like following a brown sign to a church. Here's a picture of one I followed around the interior of the Isle of Wight for what felt like about 20 miles until at a t-junction the signs suddenly disappeared. It was a nice drive anyway but sadly I didn't get to visit that 12th Century loveliness (this outcome isn't wholly unknown to me on my random adventures you understand, it's part of the joy of following brown signs after all).
He came home and Googled brown tourist signs and unsurprisingly, given there's only one website in the whole world dedicated to brown tourist signage, discovered my site. He loved the idea that people could be inspired to visit places they might not necessarily think to go just by following random brown tourist signs and was eager to get more people aware of the work that the Churches Conservation Trust do. He was also keen to get all the churches in the care of the CCT uploaded onto my website (which I'm always very happy to do). I started snoring off when talk of data sets and spreadsheets began but luckily my web developer extraordinaire jumped in and did all that javascripty giggery pockery to get each church with a brown sign in the care of the CCT all pinned onto the brown sign map of the UK. They are all here if you want to see them.
The CCT are one of those organisations that I love the most, they're passionate about conserving and restoring buildings that have for one reason or another been forgotten about, often because they prove too expensive to maintain or fraught with complex legal issues. The CCT, originally known as The Redundant Churches Fund, was set up to protect historic churches at risk and those that had been made redundant by the Church of England. Although most are still consecrated and used for services the local community are encouraged to use these churches for groups and activites that foster connections and make imaginative use of the space. One example is the fantastic project happening at All Souls, Bolton which is a national flagship project that will turn a disused historic church into a community centre for all local people of all faiths or none. The ambition, scale and involvement of the project is only made possible by a huge team of people, most of whom are volunteers, who are passionate about regenerating and breathing life back into a decaying church which was once built to serve the community, and now looks to do exactly that once more. The idea is to transform the 19th-century building into a state-of-the-art facility providing training, education, youth activities, and health and welfare services to the local community. By engaging people from all backgrounds, using innovative ideas and creating opportunities for local people this project can truly be called groundbreaking and happening upon projects like this is what this website is all about.
By being inspired to turn off the road when you see a brown tourist sign, no matter what that sign points to or whether you think you'll like it or not, you'll nearly always be pleasantly surprised at your destination. Following a brown sign to a church can catapult you into a fascinating Norman story, show you ancient woodworking or stone masonry, enlighten you about the stories behind stained glass windows or happen upon a famous local buried in the graveyard.  Whether you spend some quiet alone time on a pew or get blown away walking into a project such as All Souls,  your visit will give you something you can take away and remember forever, I promise you. My advice? www.visitchurches.org.uk 🙂