Follow the brown signs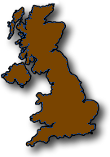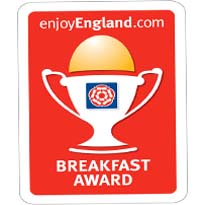 When I awoke on my first morning as a soon-to-be-married woman I was both excited about being engaged (I had to keep checking I still had a ring on my finger) and almost equally as excited about the Visit England Breakfast Award accredited breakfast that awaited me just sniffing distance away in The Fawley's breakfast room. Like I said, I do like bacon. It's become a bit of a thing for me now to check whether the place I'm staying at shows this small but extremely significant sticker in its window when I arrive, gaining this award shows that your hosts go that extra mile to please and know just how important a good breakfast is, especially to people who drive all over 150 square miles of island all day randomly following brown tourist signs. It's a big old marketing win if you want my advice B&Bs everywhere, never underestimate the power of a good breakfast. Of course those breakfasts served up by Jillian and Andy were just as good as expected and we heaved ourselves out of the breakfast room half an hour later appropriately fattened and sloshing with Earl Grey.
Getting served a enormous scrummy breakfast is far more exciting that going out for dinner. Having a perfectly cooked breakfast made up of all my favourite breakfast items (extra bacon, no black pudding) just the way I like them (eggs poached not fried, 1 sausage never 2) denotes the epitome of luxury for me. And best of all before you embark on it there's none of the usual absurdity that going out for dinner invokes, i.e. getting dressed properly, application of make up or brushing one's hair, all those things would be actively frowned upon in any breakfast serving establishment worth its salt and therefore big plus points in my book. Breakfast, I commend you, your ever humble servant, Amanda.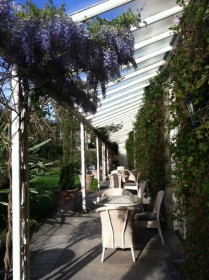 Our next nights accommodation was in the appropriately fabulous Royal Hotel just along the seafront in Ventnor. I never stay in swish hotels and really only stick to youth hostels and B&Bs on brown signed trips like this, but as we were a couple recently engaged to be married we made an exception and went all out on this bit of loveliness for the night. Happily that place had a brown sign and I tried not to wee myself with delight as we followed those signs and pulled up to see blooming wisteria and climbing geraniums bedecking the bloody spectacular Victorian ironwork framing the frontage. But no time for enjoying the place I'm afraid, we hardly had time to empty our suitcases into our drawer once more before we had to get onto our brown signing proper.
First stop was the Ventnor Botanic Gardens which is very proud that it sits in its very own little microclimate of the "the undercliff" which is protected from the cold northerly winds by the chalk downs and holds in warmth from its southerly aspect. This microclimate is so warm it allows sub tropical and exotic plant species to grow happily out in the open which elsewhere in the UK only thrive in green and hot houses.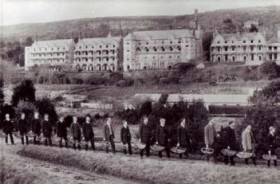 The garden was built on the site of an old Victorian hospital, the rather longwindedly titled National Cottage Hospital for Consumption and Diseases of the Chest, founded in 1868. The hospital lead the way in treating TB and chest infections until the discovery that antibiotics could cure tuberculosis. Pretty quickly after that all those consumptive patients got better, packed up their pyjamas and left the hospital, never for another hacking cough to be heard echoing around the corridors ever again. The hospital was eventually abandoned and in 1968 the building had deteriorated so far beyond repair it had to be demolished. This clouds silver lining however came in the shape of pleasure gardens which were built on the site of the old hospital. As a tip of the hat to the old Victorian era the garden designers laid out the gardens in the Victorian style for visitors and residents of the Isle of Wight to enjoy. Over the years after the Botanic Gardens' inception however it suffered significant set backs, the worst being some very hard successive winters and two big storms which by 1990 had almost completely cleared the gardens of its original plants and trees. This did mean though that the new gardens curator, Chris Kidd, had a virtually blank canvas from which to work and thus used it as an opportunity to develop and undertake a complete redesign.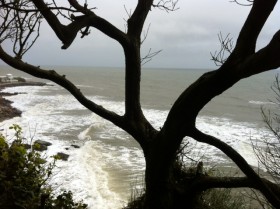 Now there are around 9 distinct areas to the garden which have been lovingly planted up to take advantage of the microclimate and allows visitors to travel all over the world as they wind their way around the grounds, there's also a hot and humid glasshouse – which turned out to be plastic and thus made me a bit depressed but it did house huge waterlillies, carp and a waterfall so it managed to redeem itself somewhat. The gardens location right on the cliff edge made for some gorgeous views too with added bonus of surfer watching thrown in. Very pleasing.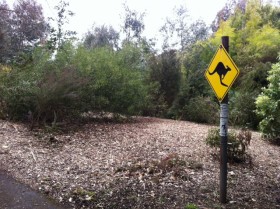 My favourite sections had to be the Australia garden and the palm terraces which both made the best noises when the wind got up (which was often, when we eventually left my severely blown around curly barnet left me looking like Tina Turner circa 1988). The wind created the most pleasing of rushings through the eucalyptus trees and riotous clattering of palm fronds which we just sat and listened to for ages, listening is fast becoming one of my favourite senses, so underrated I think…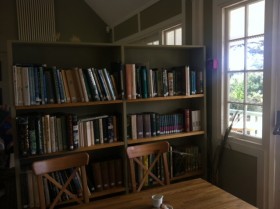 The tea rooms were another big bonus, where huge slices of homemade cake were served with a tea selection to make all their proper teapots very very happy indeed. In the tea rooms I was pleased to read that since the council no longer manages the garden it was taken on by a Community Interest Company which ploughs all its profits straight back into the garden, allowing it to keep growing, developing and evolving like all great gardens should.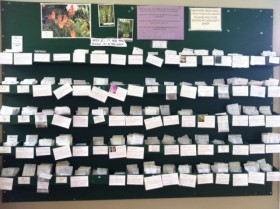 These guys not only care about giving visitors a great way to enjoy their plants and trees but they also encourage them to take their experience home with them by offering a huge variety of seeds to buy and grow at home. Granted we might not all have the exceptional conditions of the undercliff but we can but try to make our own little habits as well loved and planted up as this one can't we?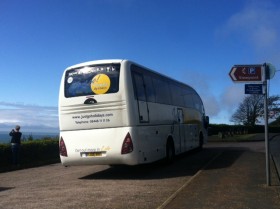 After leaving Ventnor Botanic Garden we set off allowing the brown tourist signs to dictate our route. We stopped at many a viewpoint looking very similar to this with the obligatory coach and hundreds of day trippers taking photos. Maybe I could do a piece on the value of brown tourist signs to holiday coach drivers, they don't half utilise them…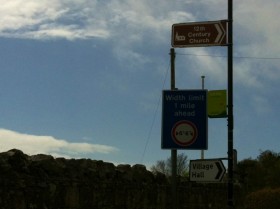 On seeing this little brown sign we found ourselves heading away from the sea and up steep winding lanes through dappled shade of the heavy woodland along the roadside. I was especially excited about this one because the fantastic Churches Conservation Trust are about to get all the churches in their care which have brown tourist signs uploaded on my website. Unfortunately though the signs for this exciting sounding church petered out by the second or third junction we got to and not matter how hard I tried to convince that husband-to-be of mine to drive around aimlessly until we picked up the trail again, he refused. He is rather more sensible that me afterall so I bowed to his better judgement. All was not lost though as he was heading the car towards St Catherine's point on the most southernmost point of the island, where one of my best type of brown signed destinations lay – a lighthouse.
Sit tight ladies and gents, my afternoon brown signing on the Isle of Wight continues in the next episode…