Follow the brown signs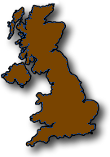 Today we have a look another 6 days along the torch relay that it covered in my absence and we'll be getting distracted by yet more brown tourist signs as we go. No time to lose, that flame ain't gonna be burning forever…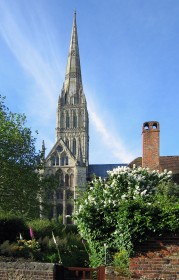 Day 54 – Reading to Salisbury – Destination: Salisbury
A new destination to be technically allowed on my website because it recently got itself permission for a brown sign on the road leading into the city. There was a big hoo haa about this in the local paper on which I commented and drew doubters' attention to the permanency of the signs and that thousands of pounds spent of short lived advertising campaigns would also be lambasted as a waste of money so why not get something immediately recognisable and as a way of getting people to notice the city a little more. Anyway, they rightly have a brown sign for the wealth of destinations in the city, including the medieval cathedral with the tallest spire in Britain, historic streets and cobbled alleyways and the world's best preserved Magna Carta, among many other things including museums and military history heritage attractions. Next time you're passing a brown sign to a town or city notice what symbols are on that sign, have you paid them a visit before? Maybe it'll inspire you to see what they have to offer…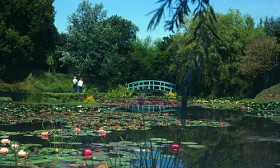 Day 55 – Salisbury to Weymouth – Destination: Bennetts Water Garden, Chickerell.
"These 8 acres of gardens hold National & International Plant Collections of Water Lilies, flowering from late spring through to autumn, creating one of the most outstanding displays of water lilies in Britain with a Monet style Japanese Bridge as the centrepiece. Grass pathways lead you through the series of ponds and lakes surrounded by wetland plants, native trees, palms, wild plants and flowers. The gardens are a 'Site of Nature Conservation Interest' and home to abundant wildlife. There are scenic places to sit and unwind and shaded woodland walks to explore. The Tropical House contains exotic plants including a cacti collection and a Family Nature Trail keeps young visitors interested. The Museum contains local history of Chickerell village (mentioned in the Domesday Book), Chesil Beach & Fleet lagoon, plus the fascinating history of this site from the Brickworks & Clay Pits of 1859 through to the gardens of today." NICE.
Day 56 – Weymouth to Bournemouth – Destination: The Blue Pool
I followed the brown sign to the Blue Pool when The Mose and I went down to Dorset a few years ago to have a little go on the Swanage Steam Train. We had no idea what it was but as is always my want we bowled on in anyway (despite the somewhat expensive admission fee) and found a beautiful green/blue/emerald pool surrounded by woodlands. After some appreciation of the pool by walking around it, sitting on benches and generally enjoying the tranquillity we ended our visit in the tea room. It wasn't long until we realised that the refreshments were actually the main attraction and the lady who runs the place has been there for nearly 60 years! She inherited the old clay pit that was once mined for clay to make pipes and other ceramic goods from her father and she's been baking her own scones and serving cream teas to visitors since the 1940s. A museum opened there in 1986 to help show the importance of the region 's clay mining industry when tobacco made an appearance in society in the 17th Century, which then gave rise to demand for pipes and clay mining. It was a very interesting visit and Jo took some lovely photos of the place. The old lady wouldn't have her photo taken with her "pinny" on and was all shy and embarrassed about how much we loved the place. I meant to write a blog of the visit but searching my archives I see I didn't. Sometimes when you go somewhere like that you just want to enjoy it and not go on about how nice it was, we found it a very touching and sweet place. If you're in Dorset then follow those brown signs…

Day 57 – Bournemouth to Southampton – Destination: Bembridge Windmill, Isle of Wight.
This is the only windmill on the Isle of Wight built in around 1700. It's simple structure and 4 sails is one the island's iconic buildings, much of it's original machinery is still in tact and although it no longer mills flours it has an excellent exhibition all about it across it's 4 floors. Any excuse to get a windmill in anywhere on this blog, I will NEVER tire of them, how could you? They're just so creepy cool.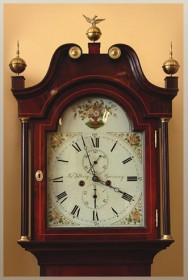 Day 58 – Southampton to Portsmouth via Guernsey and Jersey – Destination: Martyn Guille Silversmiths, Fine Jewellers and Guernsey Clock Makers
Just around the corner from The Little Chapel (quite literally a tiny chapel decorated with fragments of shell and ceramics) is somewhere that focuses on the intricate art of smithing silver and gold, a craft that dates back 300 years on this island. The result is innovatively designed contemporary jewellery which is just gorgeous. This chap doesn't just do jewellery he also repairs and sells clocks and watches too. I've been fascinated by clocks and watches since my visit to the Forbidden City in Beijing where the collection there was so beautiful and intricate it rendered me totally speechless. Time and space and the people who measure and tell us all about it never fail to capture my imagination, I'd love a visit here just to take in the detail alone.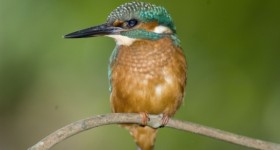 Day 59 – Portsmouth to Brighton and Hove – Destination: Wildfowl and Wetlands Trust, Arundel.
"WWT conserves wetlands for wildlife and people. Many wetlands are highly productive and support far more species than would be expected for the surface area that they cover. They are also essential habitats that provide society with a wide range of benefits, yet society often takes wetlands for granted. The immense value of wetlands and their wildlife, and the huge threats that they face are what drives WWT's mission to conserve them and manage the benefits that they bring to people in a sustainable way. What we do can be described as saving wetlands, saving wildlife and influencing action, although in reality many projects cut across these divides".
I like WWT not just because I'm a secret twitcher (I got very excited when I spotted 3 green finches in the cherry tree over the road this morning) but also because they were set up by Sir Lawrence Scott, grandson of the famous explorer Captain Scott. Their tireless work to preserve the natural landscapes around us and the events that they organise at every site all the time just go to show how popular and important their work has become (thank God). When I visited they also had a camera obscura set up in a bird hid, now that was impressive. I also got obsessed by the wonder that is the brilliant Woodcock Watch after doing some WWT research (click in, you'll get addicted too I promise!).