Follow the brown signs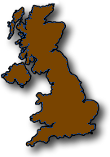 Right, I've moaned before on the blog about life getting in the way of me doing what I love most (hanging out and visiting/writing about brown-signed attractions) however while this pursuit of mine continues to pay me no money at all I also need to engage in other far more boring time consuming things like doing a proper job. Boo. Two of my other issues over the last few weeks have been 1) writing a piece for the Guardian which almost certainly won't get published but I thought I'd give a stab anyway and 2) not having the blessed internet in my new flat. Luckily though those 2 things are behind me and I'm ignoring my proper job for a day so I can catch up on a whole 14 days of the Brown Sign Torch Relay – Eeeeeek! (You know I'm going to love it really). In the interests of clarity and non-boringness I'm splitting the 2 weeks of catching up into 2 blogs and I'll tell you a bit about each brown signed destination that lay along the Olympic torch relay every day and why I like them. As is the case with every single one of these places though there's always a lot more to discover on their websites and the information there is often far better articulated there than it is by me, so to find out more just click on the links and begin immersing yourself – you'll never regret it. Ready? then let's begin…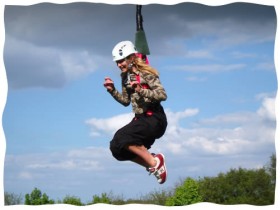 Day 47 – Peterborough to Norwich – Destination: Hilltop Outdoor Centre, Sherringham, Norfolk.
"Set in 26 acres of rolling wooded valleys and lush pasture, this place offers an all season experience, panoramic seascape and stunning coastal views over the flint and pantiled seaside fishing town of Sheringham. Hilltop primarily offers comprehensive outdoor educational opportunities to Primary & Middle schools and Sixth Form / Further Education Colleges. We also provide many other activities and facilities, including Business Training Courses, Conference Facilities, Family Adventure Days – as well as being a favourite venue for Children's Birthday Parties."
Why I like them: They're sporty go getters full of passion for the outdoors and all things active and exciting. They're all about encouraging everyone not to sit around, to grab life by the horns and get involved by doing fun energetic things instead. They've quoted a rather poignant and evocative poem on their home page which totally sums up why they do what they do, it's called "Risks" by Janet Rand – Read it, it might make you cry.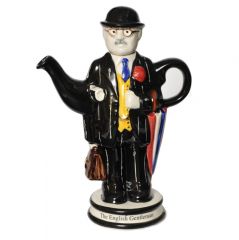 Day 48 – Norwich to Ipswich – Destination: Carter's Teapots and Home of Tony Carter's Collectable Teapots and Teapot Pottery, Debenham, Suffolk.
"We have been making Collectable Teapots and Novelty Teapots at our Teapot Pottery since 1978. All our teapots are designed and handmade in the UK, in the delightful Suffolk village of Debenham. A visit to this unique pottery will show you these world renown teapots being made and painted by hand. You can watch our girls who are expert at making and painting the Teapots and you can browse around our pottery shop, where you can be sure to find the Teapot of your choice. Enjoy painting a pot at the Teapot Pottery, relax in a friendly atmosphere and create your own design from one of the many different types of bisque pots. We will glaze and fire it for you and you can return in a few days and collect your creation or we will post it on for you!"
Why I like them: Christ, what's not to like? (I wish I'd known about them before I wrote my Guardian article!), they're quirky, very British, crafty, offer involvement to visitors and hey, they even have their own fantastic unique teapot symbol on their brown sign. I think I'm in love with them.
Day 49 – Ipswich to Chelmsford – Destination: Barleylands Farm Park and Craft Village, Billaricay, Essex.
"Barleylands is the perfect all weather, best large attraction in Essex! We have an Enchanting Farm Park where your children or pupils can Play, Learn and Party. An inspirational Craft Village where you can Shop, Learn and Eat all day! A fabulous Farmers' Market where you can Eat and Shop. A fantastic show ground that hosts a variety of events and is available for hire. A variety of different sized rooms to hire for Conferences and Functions."
Why I like them: A farm park with an emphasis on engagement. Their school visits look brilliant and the hands on activities are designed to really bring the curriculum to life, and they include workshops on some of my very favourite subjects – the Victorians, WWII and birds of prey. They run craft shows and courses encompassing art, music and creative ventures with paper, pottery, patchwork, textiles and glass. And they even host the Essex County Fair. I'm impressed.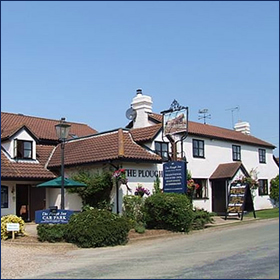 Day 50 – Chelmsford to Cambridge – Destination: The Plough Inn, Hundon, Suffolk.
"The Plough is an independent country inn where food, wine and real ales are our passion. We are close to Cambridge, Newmarket, Bury St Edmunds and Clare; ideal for a relaxing break. Our team of chefs are passionate about food and produce a mouth-watering selection of daily special dishes, along with a la carte menus that change with the seasons. We always aim to make the most of the very best local produce, using local butchers, grocers and cheesemongers amongst our suppliers. In the bar, we serve local and national real ales and are pleased to be members of CAMRA and the British Institute of Innkeeping. We hold two beer festivals a year, always on Easter weekend and also the last weekend of September".
Why I like them: Yes they're an old country pub and yes I'd have liked them for that reason alone, but these guys not only do the things I love most about country pubs like sourcing seasonal, local ingredients for their dishes and serving a changing selection of real ales from fantastic little breweries, they also host cultural events in the pub garden! This time next week there's only a production of As You Like It going on! Nice work guys, the people of Suffolk are very lucky to have you, keep up the good work 🙂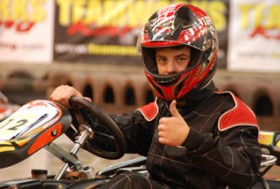 Day 51 – Cambridge to Luton – Destination: Letchworth Garden City, Hertfordshire. Apart from being interesting because it sports the accolade of being the first British town to have a roundabout built there in 1903, it also houses Teamworks Karting Letchworth, which both excites and scares the living bejesus out of me.
"Teamworks Karting's circuit in Letchworth, Hertfordshire, features indoor go-kart racing at its fastest and most thrilling. The UK's fastest & most responsive indoor karts, a HUGE race track, and no exhaust fumes! Letchworth is the UK's best indoor kart racing experience and is ideal for corporate groups, private parties, stag and hen parties, children's parties, or anyone wanting to have fun!"
Why I like them: Things that scare me are also things I have an overwhelming urge to engage in and karting is something that does just that. Apart from being a fun thing to do these karting centres are also excellent places for keeping kids entertained and engaged in things that challenge and inspire them. Thumbs up to karting.
Day 52 – Luton to Oxford – Destination: Ashmolean Museum, Oxford. Not the most eccentric of destinations but this museum sticks out because it's a place close to my heart. When I lived in Oxford I was very happy. I also "worked from home" (which my sister still refers to as the time when I "shirked from home") and thus I spent a lot of time mooching around that gorgeous city. One of my favourite places to hang was the Ashmolean, for too many reasons to list. It has now gone through a big transformation and doesn't look like it did then, but it still houses an amazing collection of artefacts and interesting things to explore and enjoy.
What it is and why I like it: Founded in 1683, the Ashmolean is Britain's first public museum and home to the University of Oxford's world-class collections of art and archaeology. The first incarnation of the museum as built in 1678 to house the "cabinet of curiosities" of Elias Ashmole donated to Oxford University after his death. It's morphed and changed over the 350 years it's been open and never failed to amaze and happily distract me from my boring work.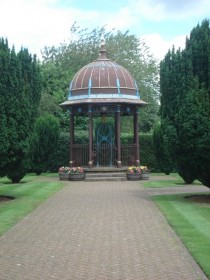 Day 53 – Oxford to Reading – Destination: The Maharajah's Well, Stoke Row.
This is one of my favourite brown signed destinations of all time and was the first attraction to really open my eyes to the amazing diversity of destinations signed by the humble brown tourist sign. I used to drive past this brown sign (with another excellent unique symbol pictured below) all the time and eventually one day curiosity got the better of me and I turned off the road to investigate. What I discovered was this and so began my  adventures along my varied and exciting journey along the Brown Sign Way 🙂
More catching up tomorrow people, over and out.