Follow the brown signs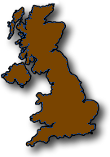 I've been slack. I'm only just writing yesterday's Olympic torch relay blog today. Life and work have been doing their best to get in the way of my metaphorical jog around the country holding an Olympic torch, trying not to set my hair alight and veering off the road whenever I see a brown tourist sign. Here are a few of the getting-in-the-wayers:
– The restaurant I manage may or may not be sold, so yesterday was spent oscillating between being in and out of a job and feeling stressed about what in God's name I'm going to do with my life in near future.
– Me and my boyfriend put a holding deposit down on the smallest flat it's possible to live in without being technically classed a chicken coop in Crystal Palace (rented of course, I'll never own my own gaff, this is of course a certainty)
– I decided to give up drinking for a whole year (there I've said it, there's no going back now)
– I took to bed at 9.30pm and slept for a whole whopping 11 hours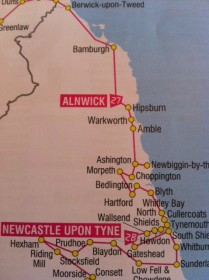 The second and third things might seem strange things to do given the circumstances thrown up by the first thing, but Reader you are probably a normal person and what happens in my world tends not to be normal. May the uncertainty and inevitable ridiculousness of my life situation commence. Crashing on…
So yesterday the Olympic torch headed from Alnwich in Scotland down along the coast to Newcastle upon Tyne in Northumberland. I don't usually pick the torch destination as the place to shout about on this blog because they're usually places with lots going on and need less their praises singing than the smaller, more hidden joys that lie along the way. I haven't been to Newcastle before though and when I did a quick search of attractions there one caught my eye, that was Bede's World.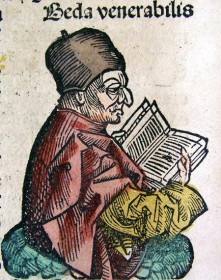 I had stumbled across the 7th Century monk, The Venerable Bede, when I got engrossed in some research about monks and monestaries after a visit to Buckfast Abbey in Devon. As is my way with these things I get extremely interested in wherever I happen to go and when I get home I spend the next few days consuming anything and everything I can on the subject. Monasteries appeal to me massively, mainly because they are places where lots of other people are not. I like quiet stressless situations where I can relax and think and read and pottle around gardens on my own and not feel like I need to be somewhere else, doing something important or speaking to anyone about anything. Buckfast Abbey offer retreats and after my visit there I longed to go back and stay, waking up at 5am for mass, eating together in silence, helping tend the herb garden while chatting to a kindly monk and generally enjoying a few days being contemplative and escaping the world for a while. I had telephone conversations and email exchanges with Brother Stephen about it (and my project which he loved, bless him) but, as ever the world got in the way and my awful car had just begun it's descent into terminal illness. After parting with some big wads of cash for various parts and labour my massive overdraft found it hard to justify the trip and, big boos and thumbs down all round, I didn't end up going. Nevertheless I read a lot and researched the monks who were being scholarly, travelling around and spreading their Godly word across Europe in medieval times, which absolutely fascinated me, the blog is here if you want to learn more.
So seeing Bede's World got me interested (especially when I saw it had a brown sign) and I found out all about it. This attraction is on the site of where The Venerable Bede, a monk of great standing in the church and scholar of gargantuan proportions was born and lived. Bede studied and taught wide ranging subjects including maths, astronomy, literature, biblical translation and history. He wrote The Ecclesiastical History of the English People for which he is known as the father of the English history and travelled around the British Isles sharing his ideas and generally being a genius.
A video about Bede's World is here and tells you all about it…
The area around where Bede's World stands, Wearmouth-Jarrow, was a contender for World Heritage status in 2011 and this website is a great place to read about the great significance of the area and how characters such as Bede and others helped shape the modern world. As well as being about Bede, Bede's World is also about educating people about the lives of people in Anglo-Saxon times, with a historically accurate farm with rare breed pigs and timbered wattle and daub dwellings to mooch around in. There's a huge collection of historically significant artefacts and displays of glass making too, which was ground breaking in those days. The attraction also organises lots of local history talks and workshops, as well as having weekly events such as "Fresh Food Fridays" and also run different themed activities every week which help inspire young and old to get into archeology and history.
What a great place to find out about the most influential scholar in British history and I think exploring the monastery where he lived and studied would be absolutely fantastic. Bede is my sort of chap, he once wrote "it has always been my delight to learn or to teach or to write" and I have a lot of respect for that. Nice one Bede's World and here's hoping Wearmouth-Jarrow keeps going for world heritage status too, great stuff.