Follow the brown signs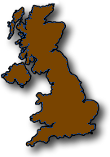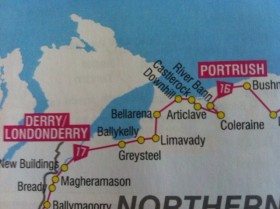 The banks may be taking a day off today but me and the Olympic torch bearers most certainly are not. The torch makes its way from Portrush to Londonderry today all along the north coast of Northern Ireland, calling at the famous Giant's Causeway, 38,000 hexagonal blocks stretching out into the sea and Mountsandel Fort, Ireland's earliest settlement dating back to 7600BC, on the way.
Today I chose Limavady at random as my destination of the day and to my great happiness found this town to be packed full of great attractions, including stone circles, a fort, churches, tombs, aviation museums and industrial heritage galore, this place is rich with things to do and therefore an Amanda Hone paradise.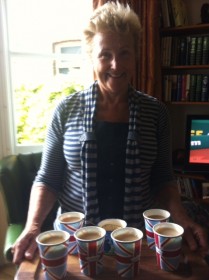 I'm in the middle of a rainy Jubilee bbq with my family at the moment (photo of my ma with celebration Jubilee cups attached) so I chose an attraction quickly that stuck out at me, and that was the Altahullion Wind Farm.
I like renewable energy a lot and especially windmills, I don't mind whether they're old or new and this wind farm is nice and excitingly new. I've always been suspicious of things I don't understand so when I see wind making the turbines go round, which is being turned into power then I understand it, so I like it. I like wind even more because it's a nice renewable resource, it may not be ridiculously reliable but at least we know it's going to stay with us as part of this earth's characteristics, whereas once natural gas and coal is used up they're gone forever and I find that scary.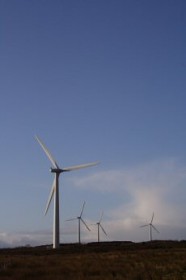 Built in 2007 this wind farm consists of nine turbines which form an extension to existing Altahullion Wind Farm, near Dungiven County L'derry. The new turbines provide an additional 11.7 megawatts of power and the extension takes the total number of turbines at Altahullion to 29, with a total power capacity of 37.7 megawatts. The wind farm is an attraction as well as a practical resource and you can learn about the power the wind turbines generate as well as enjoying the gorgeous scenery of the great blanket bogs they stand on. You can even go right up close and inspect one for yourself via a special path to the visitor turbine (if you're brave enough!).
As much as people moan about wind farms I've never found them offensive to look at, maybe it's because I like that they're harnessing the elements to give us power and not eating into our precious natural earth, but also I think they look almost like sculptures on the skyline, practical and important sculptures that are there to benefit all of our futures.