Follow the brown signs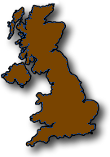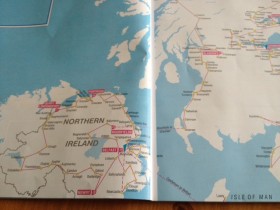 The Olympic torch landed in Northern Ireland today and as I got into work at stupid o'clock this morning (for yet another double shift) my favourite live location tool showed me that the torch was just starting it's journey north up the coast to Portrush, currently heading through Carrickfergus. This town looks inviting, it's old and on the coast (2 things I like), it also has imaginatively named attractions listed on its council website (stuff I like even more) which include: Flame! The Gasworks Museum of Ireland, The Andrew Jackson Cottage and US Rangers Centre, Fools Haven Thatched Cottage and notable 12th Century church and castle.
As always I wanted to feature all of them and find out more about every one but sadly I have a job where I can't pretend to be working when I'm not and that restricts me from doing doing hours of reading on the internet, but as luck would have it my first port of call, The Andrew Jackson Cottage and US Rangers Centre, got me interested the minute I started reading about it, and so it's today's lucky winner.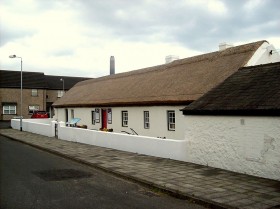 This brown signed destination is a thatched 1750s cottage that has been restored to look and feel exactly like it did when it was built 250 years ago, with period furniture, wattle and daub structure, open fireplace and hanging crane beams. Andrew Jackson, who the cottage thanks for its name, was the 6th president of the United States no less and was born of Carrickfergus parents who emigrated to America in 1765, a pretty impressive chap then clearly. On further inspection however it turns out that this cottage isn't actually the Jackson family cottage itself, that was demolished during the building of the railway in the late 1800s, but the cottage does sit very close to the original site and pays respectable homage to the Irish descended president nonetheless, so it's still a win.
Despite his Carrickfergus heritage Jackson was actually born in America a year after his parents emigrated, making him the first ever first generation US president. The big foreheaded president was known as "Old Hickory" because of his aggressive personality (which probably helped get him where he was, along with his enormous brain in that massive head of his) and was known to fight duels in which one opponent actually died, cripes.  He was clearly a hard man who lead a difficult life, his father died just before he was born and then his mother died when he was 14, his wife also tragically suffered a fatal heart attack just hours before Jackson was taken to Washington to be sworn in as president. One of his famous quotes is "Heaven will be no Heaven to me if I do not meet my wife there". Ahhhh.  Jackson was an avid protector of popular democracy and individual liberty for US citizens (yay!) but his support of slavery and policies that saw thousands of native Indians forcibly removed from their homelands (boo) rather taints the story of his 8 year presidency. When he died in 1945 his pet parrot attended the funeral but had to be removed because it was continually squwarking swear words, words we assume Jackson taught him!
This little cottage has an extensive exhibition on the man himself and explores the relationship between Irish emigrants and their newly adopted homelands, especially the USA (which I think sounds fascinating).  The cottage also houses an exhibition on the US Rangers as a 1st Battallion Ranger unit was sanctioned, recruited, and began training in Carrickfergus in 1942 for service during WWII. Of the 500 Ranger volunteers who signed up sadly only 87 survived the war and this exhibition details the role they played in the war. The history is pretty meaty so detailing the "best bits" is totally beyond me because frankly I'm absolutely exhausted, but you could and should read more about them here.
For now though sleep pulls me down to it's very deep hole of happy dark and quietness where no computers whirr with bright screens to disturb the blissful amazingness of unconsciousness, and that place, my friends, is one I'm happy to be pulled to. So on day 16 of my alternative brown sign torch relay I bid y'all a fond good night.