Follow the brown signs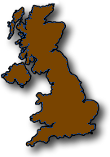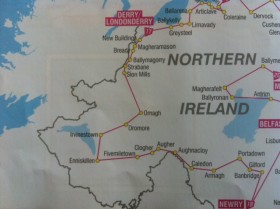 The Olympic torch leaves the Northern Irish coast today and heads inland through the deepest countryside of Omagh, where mountains, lochs and forest parks abound. Just looking at the map of the area made me long to be there and then Googling what it looks like in real pictures makes me even sicker to be sitting in my flat in urban South East London (I really need to move to the country, and quick). I had a look to see what brown signed attractions were around the area and settled on one that sounded appropriately nature orientated called Glenhordial Permaculture Garden. I haven't featured any gardens on my alternative torch relay of Britain yet and as they're great places to see the varying terrains and weather conditions through the different plants that grow and the flora that flourishes I thought I'd feature one (remember yesterday the wind farms were all set over blanket peat bogs and the unique and particular species of plant that grow there must be absolutely fascinating), so I decided to find out more about this garden.
To my great joy this garden turned out to be more amazing, unique and inspiring than I thought it could be (as can so often be the way when stumbling upon places by following brown tourist signs). First I did some research into the "permaculture" part of their name on Wikipedia which made me prick up my ears, then after reading just a little bit of their website I began to get very very interested, their tag line struck a chord with me immediately: "Living in a world of limited resources with infinite possibilities". I had to read on…
To help uninitiated people like me understand what they do and believe in, they begin by explaining permaculture like this:
"Permaculture combines three key aspects: an ethical framework, an understanding of how nature works,  a design approach. This unique combination is then used to support the creation of sustainable, agriculturally productive, non-polluting and healthy settlements. In many places this means adapting our existing settlements. In other cases it can mean starting from scratch. Both offer interesting challenges and opportunities. The word 'permaculture' comes from 'permanent agriculture' and 'permanent culture' – it is about living lightly on the planet, and making sure that we can sustain human activities for many generations to come, in harmony with nature. Permanence is not about everything staying the same. It's about stability, about deepening soils and cleaner water, thriving communities in self-reliant regions, biodiverse agriculture and social justice, peace and abundance."
(A great website to learn more about the ethos and practical application of permaculture theory is the Permanent Culture Now website which is impossible not to get immersed in, put aside at least 15 minutes!)
I talked yesterday on the blog about my suspiciousness of things gleaned from the earth's limited non-renewable resources and my worry about people in our privileged western world having no real need to get things for themselves that are imperative to our survival, like water, heat and food. It's always seemed to me that when we grow up with an amazing infrastructure around us that allows us to survive without really trying, we become unaware of our reliance on it's provision, and worse still we have little idea of how to survive without it. I have a privileged life like most people in the UK, I live in a flat with running hot water, electricity and heating, and I enjoy it but, call me a Ludite (and my boyfriend often does) I just don't trust living like this. I trust things that I know I've done with my two hands and seen my own specific contribution to, so even when I buy my vegetables from the supermarket I feel a sense of something like disappointment. I don't know whether anyone else feels like this, and I can't really describe it very well, but it comes down to a sense of deep loss of connection between me and the earth I live on. It is for this reason that I really got into reading about permaculture and the people behind this garden.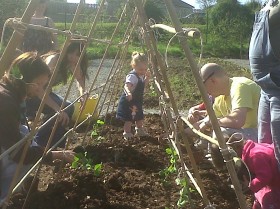 It turns out that Billy and Marella who own and run the garden are not just about living sustainably and in ways that benefit both human beings and the planet, they're also dedicated to educating and inspiring people from all walks of life, and especially those who are most vulnerable, about the positive impact that permaculture and having a proper connection to the earth we live on can have. One of the most interesting and tear jerking blogs I've ever read is called Sausage Supper, you absolutely HAVE to read it. It describes work they did on "let's call this Project X" 10 years ago with communities on the border between Ireland and Northern Ireland to help overcome barriers and show how massively beneficial growing and producing our own food together really is. They admit that the task was massive and the staff were inadequately trained to deal with the politics, deep seated suspicions of the "other side", poverty and feelings of desperation in unbelievably difficult times. This meant that despite keeping going for as long as they could the project ultimately failed, culminating in their offices being burnt down. To read about this sad end after seeing what they were trying to do and how much they wanted to help the most vulnerable people and communities by giving them the tools to do things for themselves, which would have such massive impacts on their lives, was heartbreaking.
But the blog goes on to describe what lessons they learnt from the failed project and after keeping going and learning what did and didn't work (e.g. running courses that were really only "preaching to the converted") at last they got their win by going into schools and spreading their lessons by engaging and inspiring children in the garden. The kids absolutely loved it (what child doesn't love planting their very own seeds, watching them progress and getting their hands dirty?) and now they run education programmes that have gone from strength to strength, their aim is to go into every school in the country to do the same thing, and wouldn't that be absolutely fantastic?
Another absolutely amazing place to have stumbled upon just by following brown tourist signs, don't you think? These are the kind of people who are changing the world by caring and spreading their ideas to the generations who'll keep it going and be inspired to live in less wasteful and more thoughtful ways. Keep going Marella and Billy, when I break free these job shaped shackles (give me a week) I'll be right there learning from you. Sheer brilliance on your part 🙂