Follow the brown signs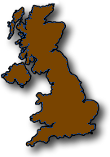 No bad photo of my official London 2012 torch relay route map today I'm afraid. I'm working a double as always on a Saturday and as I exited my bed approximately 15 minutes before I needed to be here, taming my enormous barnet (not picking up my A-Z of the UK) was more my immediate concern. I can tell you though that the Olympic torch left the mainland from Liverpool and headed to the Isle of Man in an aeroplane (was it still lit? Is that even legal? I want answers… OK I just found answers here) this morning. The isle of Man is not technically part of the United Kingdom as it is self-governed with different tax rules etc, but it does still fall under the status of a British Crown Dependency along with the Channel Islands, Jersey and Guernsey. I was worried that the island's obscure UK related status might cause it to have different (i.e. non brown) official tourist signing, rendering today's blog a little hard to complete. However I checked out my ever growing brown sign map and saw that there was indeed a brown sign pin in the Isle of Man, a great one too, a little nature reserve with a great name – Poyll Dooey – which is all the more compelling because it was once the local tip until it was cleared by locals to became a nature reserve, ahhhhh.
But as I wrote yesterday on the blog, the reason I fill every hour of my spare time (and time I'm technically supposed to be working too, i.e now) on this website and blog is to uncover all the ace places all over the UK that I never knew existed before and to see lots of new things that never fail to surprise and hearten me, I just can't get enough of it. So even if Poyll Dooey would be a great place to feature I can't help but want to find out everything unique and interesting about everywhere I am on Alternative Brown Sign Torch Relay, so I will embrace the opportunity to do just that, yayzers! I'm also extra excited to metaphorically be here today because I just love islands, they're in the middle of nowhere so they're hard to get to and they usually don't have very many people on them, and don't I just love that.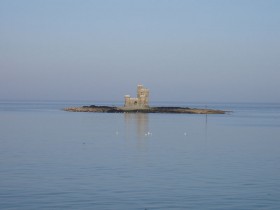 So I spoke to a lovely Rachel at Visit Isle of Man who thought my project was fab (I love her bad) and she told me about some Isle of Man brown signed tourist destinations. I'd already done a bit of research before I rang and I desperately wanted to know if an intriguing tower, called "The Tower of Refuge" which sits in the middle of Douglas Bay, was marked anywhere by a brown sign. She said no it wasn't. I managed to force back the tears but was so taken with it that I thought I'd tell you a bit about it anyway.
The tower was built in 1832 by Sir William Hillary, founder of the Royal National Lifeboat Institute (RNLI), who moved to the Isle of man in 1808. This man loved the ocean but from his home by the sea he could see the terrible troubles that sailors got in when they were shipwrecked on reefs and the rocky coastal waters. Despite being a non-swimmer Hillary regularly went out on life saving missions when ships became stranded, but it was not until he was assisting the crew of a stricken Royal Mail steam packet ship in 1830 that he was washed overboard and into the treacherous sea. He knew it was too far to swim to the shore so his, and every other shipwrecked sailor's hope was to be picked up by a rescue boat. As a man totally dedicated to saving lives and someone who couldn't bear to stand by and watch sailors' be lost at sea he set to work getting a tower built on Coniston Rock in Douglas Bay where sailors could swim to and await rescue. The tower had a bell for attracting attention and was stocked with fresh bread and water until very recently. Fortuitously, but perhaps rather ironically, there have been no shipwrecks on the rocks since it's building. But the tower still stands as a permanent reminder of one man's dedication to the brave people who sailed the seven seas. What a cool dude.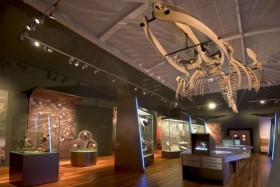 OK, time to get round to the brown sign destination of the day for heaven's sake, which (drumroll) is… The Manx Museum. The museum charts the 10,000 year history of this island through artefacts, exhibitions, films and events that all celebrate the culture and heritage of the people who have lived on and shaped the Isle of Man. The museum showcases everything from the Vikings to the infamous TT and gives a proper all encompassing history of the island. I wish I was there, but maybe not today when hundreds of motorbikes are speeding around the island roads which would scare me stupid and put me off enjoying the place (I'm not supposed to say that because I'm a pillion passenger on the back of my boyfriend's motorbike a lot of the time, sorry boyfriend).
So all hail heritage museums and indeed anyone showing off their history on self-governed island nations I say. High fives all round.