Follow the brown signs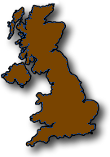 Today's brown sign of the day is The World of Model Railways in Mevagissey, Cornwall. I knew I'd love it even before I'd had a butcher's at their website but all the pictures and descriptions of this little attractions only compounded my love for them even more. When answering the question "Why is your attraction important and why would Britain be worse of without you?" on the form on my website they said this:
"We are almost unique in Britain, one of very few model railways operating daily for the public, and the finest in terms of model detail and operational interest. 2011 sees us established 40 years and we are very well known in the model hobby, having set the standard for others to aim for and been an inspiration to many people" Ahhhh, how can you not love that? And here's what they say on their website…

The World of Model Railways is one of Cornwall's premier tourist attractions, with one of the best model shops in the South-West of England.
Our OO gauge Main Layout has over 30 trains travelling through varied landscapes including town, country, seaside and even an Alpine Winter.
The 'Junior Junction' childrens' railway features Hornby Thomas The Tank engine characters and a model circus.

The indoor Garden Railway shows how you can transform your own garden to run large scale trains – and you can have a go at driving them yourself!
The night is lit up with fun and action on our operating fairground scene.
Static displays show hundreds of superb locomotives and models.
Our shop stocks a wide range for the enthusiast and modeller, from Thomas the Tank and Chuggington to the best in finescale model railways.
My favourite thing has to be their emphasis on the varied landscapes that all the trains travel through, including an "Alpine Winter" scene, so darn cute. I'm going down to Cornwall on Sunday and I'm clearly going to have to pay them a visit. I love model railway enthusiasts.