Follow the brown signs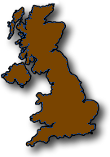 I'm getting so many unique and amazing attractions signing up to The Brown Sign Way through the "
I'm a brown-signed attraction, get me involved!
" page on my website that I think it's time they were shared, so in their honour I'll pick one randomly every day and feature it in my new daily post called "Random Brown Sign of the Day". It won't be a normal blog about me doing a brown sign visit, it'll be more about how surprising and interesting these places are when you start finding out just a little bit about them, and hopefully inspire you (even more than you are already!) to get out there and follow brown signs just for fun and to discover all these cool places all for yourself.
My very first Random Brown Sign of the Day is The Kingcombe Centre in Dorset, and in their own words here's a little bit about them…
Nestling at the heart of the peaceful hamlet of Lower Kingcombe in West Dorset, our educational charity offers an engaging array of natural history, archaeology, craft and art courses throughout the year.
Surrounded by 185 hectares (457 acres) of Dorset Wildlife Trust's Kingcombe Meadows Nature Reserve, the centre offers tranquillity in a landscape miraculously untouched by modern agricultural practices.
Delving into our exciting programme you will discover something for all ages and abilities from day to week-long activity holidays. We are renowned for our friendly hospitality, scrumptious food, environmental guest accommodation and as a flagship for sustainability.
Whether you join us on holiday, gain inspiration from a walk in the nature reserve, explore the Visitor's Centre or take refreshment at the Kingcombe Café, you are always guaranteed a warm welcome.
The Kingcombe Centre Café is now open every weekend and most days from 1 October – Easter (11.30-3.30) and Easter – 30 September (11.30 – 5.00). The Café will be closed for a short time over Christmas and the New Year.
The Kingcombe Centre has three charitable aims:
To raise awareness of the connection between humans and their natural environment through residential and day courses.
To provide a safe space for children and young people, including those with learning difficulties, to explore and gain knowledge about the outdoor world.
To maintain the charity's 4.5 acre (1.8ha) site for the benefit of future generations and enable it to form part of the Living Landscape, in particular, its Site of Special Scientific Interest (SSSI) Meadow.
Sounds brilliant huh? Now that's the kind of place I'd like to stumble upon when out brown-signing. I was especially interested in the willow weaving (I'd like to add that string to my bow), but there are so many workshops and courses to choose from literally everyone would find something they'd like to do here. The inventively named courses include: "Birds and Their Song in Spring", "Fur, Feathers, Faeces and Footprints", "Untidy Gardening!", "Silk Painting", "Jazz Improvisation", "Fungal Foray Weekend", "An Introduction to Beekeeping", "Classical Guitar", "'Developing': Getting the Most From Your Digital Camera", "The History and Ecology of Woodlands" and "Guided Mountain Biking". Click here for the brochure and to find out more.
Right, who isn't impressed?! I know I am. See, such cool places exist all along The Brown Sign Way.