Follow the brown signs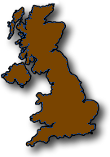 So, I've been working on this project of mine to celebrate and map the fantastic array of destinations with brown tourist signs across Britain (and indeed the world) for the last 3 years now. In fact, its exactly 3 years this week when I first headed off in my crap car (which currently sits abandoned on the road outside because I'm pretty sure the clutch has imploded) on a big trip visiting as many brown signed destinations as I could in the space of a few months. I set off with some very meagre savings, an industrial sized jar of gherkins, a hideous sense of direction but importantly with the feeling I was doing something not just fun and interesting, but also something important. I wanted to visit these places not only because it's what I love doing, but also because I hoped my disorganised, spontaneous trip would inspire others to do the same – to notice brown signs to places they might never have thought of visiting before, to come out having learnt something and feeling glad they went in. If you weren't following my escapades three years ago or if you want to refresh your memory about how much I was cacking myself before I left, the first blog I ever wrote in it's original Brown Sign Way form is here.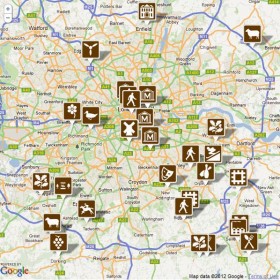 Over the years I've learnt a lot about how to visit and write about museums and attractions. I research a lot more now, I pluck up the courage to speak to staff about what I do when I visit, I try not to pack 5 attractions in in a day and I built a website that is capable of mapping and storing data, information and locations of brown signed destinations so that people can see and be inspired by these places themselves. It hasn't been easy or cheap (if it was it would be terribly boring wouldn't it?) but now I'm finally at a stage where the infrastructure is in place to start building on the work I've already done. For me this project was about much more than getting to an end goal and shouting "finished!", it's now about moving forward, getting the word out, involving people, pinning more places to the map, celebrating all your favourite attractions, hearing why you love them and getting more people engaged, involved in history and heritage and seeing the great things there are all around us.
Right, so here's the sticking point: I work part-time and dedicate the rest of my life to this brilliant but expensive project, however in the long run this just isn't sustainable. If you're thinking "Ding! I know – advertising!"  then I have to get that thought out of your head right now kiddo because I refuse to have any of that shit on my website. The constant bombardment to the brain of unwanted information, flashing banners, discounts deals and pop up windows signal, in my opinion, the very demise of imagination and deeper level cognitive functioning when gleaning information online, it makes people thick quite frankly so there's no point suggesting I monetise this website (sorry)! I just won't do it. The problem however is that if I don't monetise it I must continue to pay for everything out of my part-time salary, which I still do happily, but after 3 solid years, hideous overdraft levels, more money spent on petrol and break downs to think about without being sick, not to mention the time spent keeping it interesting and meaningful for people without even the smallest potential to make some money from it in the future, well that eventually takes its toll. I find myself at a point where now I must assess whether, realistically I can carry on this way or if I effectively leave the project, despite all it's potential and give it up.
This is the thing though guys, I really don't want to do that. I love it, it's unique, fun and it appeals to everyone, it gets great feedback but (somewhat surprisingly) all the big people I've ever approached for help/advice/investment/support have all basically flicked me the proverbial Vs. Ironically, part of the problem is that because I do this for love not money they just don't take me seriously as its not a commercial venture. As an example recently I contacted the travel section of the Guardian and talked to them about my project, how different, spontaneous and appealing it is and how their readers would get a lot out reading an article about randomly following brown signs and I offered to write a whole massive feature for them. They agreed but stipulated that I should outline a "top 10" places to go with brown signs (how can you choose?!) and only make them places "readers would really want to go". I was disheartened by my brief, what they asked for was exactly the opposite of what I am getting at with my project, the whole point is that often you have no idea an attraction would be so interesting and you surprise yourself at how much you enjoy it! I'm simply not going to write a piece directing people where to go (who cares about my opinion anyway? It's yours you should be interested in!) and produce something that completely goes against the whole idea of what I do. I did end up writing a piece, a completely different piece to what they'd asked for hoping I'd inspire them to think differently about travel/travel writing but you won't be surprised to hear it didn't make it into the paper.
I completely appreciate this project doesn't fit very well into any categories and it falls between a lot of stools, and I know it's tough times at the moment, but is there really no one out there who can see this project's great potential and huge positives for British tourism?! Investment doesn't need to be much, it's more about help, advice, avenues to try and people to talk to and work with which would make an enormous difference. The main thing for me is to spread the word and to get what I'm doing out there to the right people who can help push this unique idea to the next level.
While reading this maybe you've thought of something I can try, maybe you know someone who loves quirky stuff like this and can offer advice, maybe you're an agent who can see the massive potential of this project through the unpolished book proposal, maybe you're Mr Richard Branson himself (if so I love you man *punches chest*) – whoever you are, whatever your connections and whatever your thoughts, if you have any then contact me, my ears are wide open. I appreciate it people, and so do all those brilliant people running the fantastic places all signed by the humble brown tourist sign. Thank you for listening 🙂