Follow the brown signs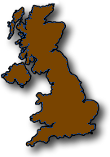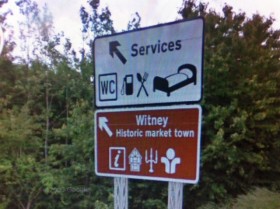 Yep, here it is, on the A40 just coming up to Whitney, Oxfordshire. I've been searching for one of these little puppies for ages after I began my chapter on antiques centres for the book. I like finding "rare" symbols like this one, mainly because I'm a massive brown sign spotting nerd but also because I like having real life examples of the places I write about (its why I bankrupt myself driving my car into the ground caining it all around the country to experience them). In fact a chap who alerted me to the existence of this sign stumbled across my Facebook page while doing some research himself about what this candelabra meant. Oh nerds unite!
The symbol above indicates the way to an antiques centre and was one of the "new" symbols added to the standard symbols authorised for use on tourist attraction signing in the Department for Transport's Traffic Signs and Regulations Handbook in 2004, which brought the grand total of official symbols to 93 (new ones also included a military museum – a tank, a cider farm – a cider tankard with apple image on it and a brewery or brewing museum – a barrel, if you're interested). Have a butchers at them all here.
As ever people keep your eyes peeled for more joys along the brown sign way and keep up your great brown-signing. Remember, travel and discovery isn't about travel blogs, newspaper articles and guide books, its about making your own adventure and engaging in the very things that are all around you – and guess what? They're often signed by the humble brown tourist sign, of course 😉