Follow the brown signs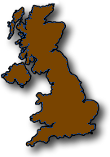 Wow, I've caught up and am actually writing a blog for my Alternative Brown Sign Torch Relay on the day it's supposed to be written and, joy upon all joys, that means I can use my favourite ever live location tool on the London 2012 website to decide my destination of the day! As I wrote the torch was just making it's way along the seafront at Morecambe so I began my daily research into the interestingness that my destination had to offer and stumbled upon this article from February this year. The article in the local newspaper shows how important and valuable brown tourist signs are to tourism businesses as it reports that the town councillors were finally granted permission to remove old and tatty brown signs which will be replaced with new ones to reflect the full range of attractions and facilities the town has to offer. I was heartened to read this because I know that some councils in other areas of the country are thinking of removing them altogether and they really do help to boost tourism and get people noticing everything a place has to offer. Thumbs up Morecambe and onwards with finding a destination…
When I started reading about Morecambe though I was sad to learn that although a big regeneration scheme had been on the cards for this once thriving but now rather frayed around the edges seaside town, these hopeful plans had stayed only plans and the scheme came to an abrupt end a few years ago. Many seaside towns around the country have been feeling the huge changes in the way we spend our leisure time and many have been in similarly precarious situations, teetering on the edge of decay and neglect. There are success stories where regeneration schemes have worked, including Margate and Hastings who got their galleries and resources for revitalising flagging tourism but Morecambe seems to be one that slipped through the net on big funding. Despite that there are some great things going on including local art and encouraging creative spaces which I like a lot. Usually it's easy to find lots of brown signed destinations along a seafront but today I only came up with a hotel, an amazing hotel, but only one nonetheless.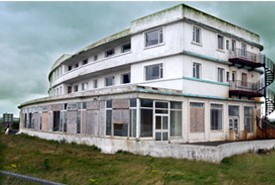 The Midland Hotel is a the vision of Morecambe that the planners wanted the town so badly to become, it is an amazing painstakingly restored and renovated Art Deco building sitting on the seafront looking glorious after it's abandonment during the '80s and '90s.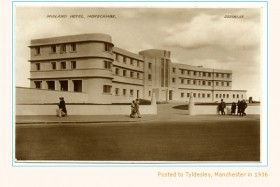 A hotel has existed on the site since 1848 when the railway first came to the area carrying Victorians taking their holidays, it enjoyed continued popularity until the war years when it was commissioned as a base for the RAF and acted as a military hospital, but post war decline saw the end of the hotels heyday when it began its sad story of passing from owner to owner with very little love shown to it at all. The trend for taking overseas holidays and the declining popularity of neglected and old fashioned coastal towns meant that owners of big old buildings like The Midland had to decide whether to spend lots of money on restoration in economically difficult times, for probably very little return and nearly always they decided it wasn't worth it, leaving many in states of bad disrepair. However the Manchester company Urban Splash bought the hotel and after years of work it finally opened in 2008 as a shining star on the seafront. What is sad though is there seems to be a lack of others doing the same and the western end of the promenade has a rather neglected feel. A wasteland where the old theme park "Frontierland" once stood now stands abandoned, it once boasted the highest ferris wheel in the Europe. It seems strange to me because being beside the sea is something everyone loves and give people a reason to go and they will, there are people working hard to attract visitors to the area and the little people doing big things are the people who change the world, take the examples of Cedric Robinson MBE's Bay Walks and The Tern Project which incorporates art works in the stone sea jetties, the famous Eric Morecambe statue and lots of other creative ideas for some interesting and inspiring things going on in Morecambe.
So today's brown sign is a great one, I love brown signed destinations that have time and effort spent on them and the restoration of old buildings is something I'm passionate about, bringing them back to their former glories so they can be enjoyed and appreciated as they were designed to be, well that makes me very happy indeed. But this story is also a sad one and reflects the sorry decline in our appreciation of what great things Britain has to offer. I very much hope there are positive movements for Morecambe soon and that visitors and investors can see the potential in somewhere with so much history and natural beauty, especially with the renovation of The Midland. Fingers crossed Morecambe.