Follow the brown signs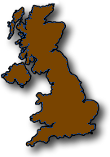 Right, I've been huffing and puffing and trying desperately to keep up with the Olympic torch for the last few days and now I'm only a day behind on the blog, who knew it was possible during a time of redundancy, taking on 2 new jobs and general massive upheaval? Not stressful at all as you can imagine.
The Olympic torch travelled from Carlisle up into Scotland for a quick visit to Dumfries, then back down into England again to the Lake District where it rested for the night at Bowness-on-Windemere. My destination of the day is called Wigton in Cumbria, why? Because there's a pretty exciting sculpture park there that's why.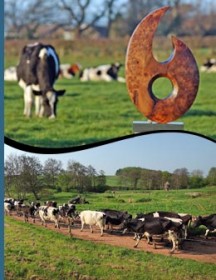 The High Head Sculpture Park is owned by the sculptor and farmer Jonathan Stamper who decided to open up his farm in Ivegill to the general public so they could enjoy sculptural art in the midst of the amazing scenery of the High Head Valley. The attraction offers a sculpture walk to meander through and appreciate some Barbara Hepworth inspired art, a nature trail, tearooms and an exhibition space with an art galley. They also run craft workshops and courses run by artists which encourage people to get engaged with all things crafty. I was especially interested in the Hooky and Proggy Rug Workshop, I don't know what it is but I'll almost certainly be signing myself up for it in the next hour. A walk up to the top of the farm also takes you to an interesting stone circle, interesting because it's actually a modern installation not megalithic like most stone circles and was created by artist Brian Cowper. The High Head Stone Circle marks the rising and setting of the major southern lunar standstill, when the full moon hangs low in the sky for only a few hours, an event of importance to stone circle architects that occurred in the summer of 2006 and won't be replicated again for another 18 years. The logistics of the alignment of the sun and other solsticy type things I can't describe very well are outlined here, it's all very interesting.
The High Head Valley Sculpture Park is an example of a man and his wife's desire to bring what they love to the world, he is both a farmer and an artist and opening up his farm to show us how great both of them are is inspiring. One review I read on a well known review website said that it was a bit weird here and it probably it, but then isn't that what makes it so different and interesting? I know I'd love it there, keep going John and Bernadette, it looks awesome.