Follow the brown signs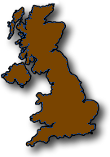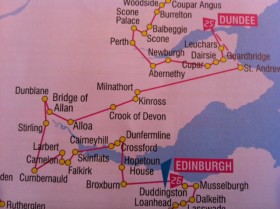 So today is our last full day in Scotland as the Olympic torch bearers carry the flame south from Dundee to Edinburgh.
The live location tool showed me that the torch was just coming up to Kinross, where there's also an interesting looking blue trianglish splodge on the map, so I homed right in to have a closer look. The triangle is actually a loch called Loch Leven which is an interesting destination in itself. It has seven islands, one of which is home to Castle Leven whose most famous prisoner and escapee was Mary Queen of Scots who made her dramatic escape in 1568 after 9 years imprisoned there. Another island has a preserved 4th Century chapel on it and the loch is also home to various 19th Century mills and industrial heritage. There is a well marked heritage trail around the north side of the loch which tells visitors about the loch and includes lots of interesting things to look out for. The loch is a designated nature reserve with wildlife galore and visitors can regularly see shy animals like otters and kingfishers pootling around in their natural habitat.
I liked the loch a lot but when I was doing my research I came across a campsite which sits just over the M60, this campsite has excellent reviews and even better, a brown sign, we are WINNING people!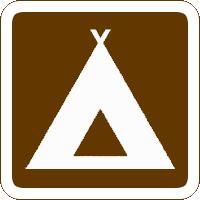 Gallowhill Camping & Caravan Park gets great reviews because it's close to the nearby Loch, Knockhill Race Track and attractions around Kinross, it's also good value (showers are just 50p for 8 minutes of hot water) but the main draw here is the warm welcome campers receive and the dog walking area (dog walking is a BIG thing).
So here's the first campsite to be featured on my Brown Sign Torch Relay of Britain, good huh? See, brown signs don't just point to attractions you know, they also point to facilities and if you need somewhere to lay your head for the night, have a tent and a dog in the boot then this places would be perfect, no? Go brown-signing more often, you'll happen upon friendly campsite owners and Doggy Walks and it doesn't get much better than that.