Follow the brown signs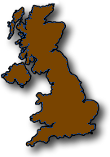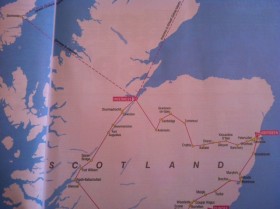 The Olympic Torch leaves the Scottish islands today and gets flown back down south to Inverness, it then makes its way through some of the most mountainous and spectacular scenery in the United Kingdom to Aberdeen, on the east coast of Scotland.
My destination today lies just on the boundary of the Cairngorms National Park which was established in 2003 and covers an area of over 2500 square kilometres. The area was designated a national park to help preserve and protect the natural landscape and is therefore a haven for lovers of the outdoors, providing challenging mountain walks and leisurely ambles around lochs as well as spectacular waterfalls and ancient pine forests to be thoroughly blown away by.
The area around Ballater is where we are today on my alternative brown sign torch relay because I've found a quirkier than normal brown signed destination to take you to. We're following more than just one brown sign, actually we're following many along the Queen Victoria Heritage Trail, which is a tour of the area marked by brown signs with Queen Victoria's distinctive profile on them. The trail takes tourists who followthebrownsigns.com to the formidable old monarch's preferred haunts and places of royal connection in the area,  Balmoral is just down the road and was the Queen's "paradise in the Highlands", she spent much happy time here.
Wow people, isn't today's brown signed destination a cool one?! If I ever got the pleasure of seeing one of those bad boy brown signs I think I'd probably wet myself. I even had a quick look online to see if I could find a picture of one to show you and thank you very much Google Maps, here it is…
The heritage trail takes in 12 main places of Royal connection and includes 2 castles, Drum Castle and Balmoral, Fettercairn Victorian Arch, The Queens View Lookout Point (photo includes another brown sign – amazing) as well as the Royal Lochnagar Distillery, a historic suspension bridge and the newly restored Old Royal Station in Ballater where the queen would arrive on her train from London. The tour looks absolutely brilliant with loads of historic connections and places to visit where you can appreciate and marvel at the right royal significance of our most honoured Queen. During Queen Victoria's reign the British Empire boomed and industry made huge leaps forward, making Britain a nation to be reckoned with and paving the way for the unbelievably privileged lives we lead today.
There are a quite few brown signed heritage tours around Britain marked by brown tourist signs, including one in Kent (with an oast house symbol) and also in Anglesey (with a horse and cart symbol) that I've had the pleasure of following and I think they're a brilliant way to discover an area. Seeing brown signed heritage trails like this one, which have been designed and thought out in great detail which aim to show visitors the uniqueness of an area makes me very happy indeed. So keep those eyes peeled for more brown tourist signs people, and especially the trails, you'll be taken on a brown signed magical mystery tour you won't forget, it'll always be worth the detour.