Follow the brown signs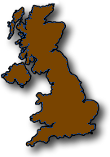 The Olympic torch travels north from Inverness to the Orkney and Shetland Islands today, then back south west to the Isle of Lewis where it finishes it's journey in Stornoway. Finding a brown signed destination was hard, being at work the whole time and the fact it was a Sunday meant I couldn't just get on the phone to the tourism office in Shetland and ask for their help.
Instead I found myself on Google Street View pulling the little orange man off his stand and onto the little roads around the islands pootling along and looking around for any brown signed attractions. What this exercise also made me do was spend a lot of time on ferry timetable websites and checking my online bank balance to see if I could afford a spontaneous trip up to these rugged beguiling islands myself. Something's going to blow in me rather dramatically any day soon and I just hope it culminates in me sitting in a bird hide in the Shetland Islands. I'd been doing some research into the wildlife here (because if I have to admit it I'm a bit of a repressed twitcher at heart) and really wanted to feature a brown signed destination that reflects the great variety and extent of bird life that make these islands their home. So I was Google Streetviewing it up the road to Sumburgh Head, where some of the biggest bird colonies in the Shetlands nest on the craggy cliffs, when I spotted this brown sign…
My little heart leapt in my little chest, a brown sign for Sumburgh Head AND the lighthouse! I nearly cried with relief and ridiculous happiness and got writing…
The Shetland Islands form an archipelago of over 100 islands, only 15 of which are inhabited. From Fair Isle to Old Stack (the most northerly point of the British Isles) they stretch over 100 miles and offer an abundance of diverse things to see and do, from archaeological sites dating back 6000 years to walks, crafts, wildlife and a unique culture and heritage to experience. The Shetlands have been part of Scotland for over 600 years, but before they became part of Britain they were owned by Norway and the islands are proud of their Viking heritage, with plenty of festivals and customs that maintain their Norse roots. There is a lot to read and appreciate about the Shetlands which can all be found here (prepare to change your holiday destination to Shetland this year if you click on link though).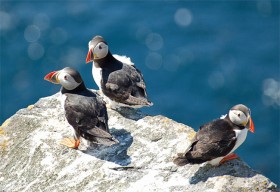 I chose to research the wildlife of Shetland in greater detail because, as with everywhere I feature on this blog, there simply isn't enough time to cover all the cool things every destination has to offer and I haven't featured any brown signed wildlife attractions yet so Sumburgh Head was perfect. The RSPB  reserve there is currently being revamped which will eventually have big shiny new facility for bird watchers and is due to be finished in 2014, in the mean time though visitors can still go and see the birds flying around the rugged rocks and learn about the flora and fauna all around here. In the summer the cliffs welcome thousands of breeding seabirds, including puffins, guillemots, shags and fulmars, it's also a great place to see non-winged animals and sighting are common of dolphins, porpoises, minke whales, killer whales and grey seals. But the creatures I was most excited about were the puffins. In summer there are ten times the number of puffins to people on the Shetland Islands and ever since I saw one from a boat I was hanging over the side of in the Scilly Isles (I'm sick the minute I step off terra firma) they've fascinated me. So you won't be surprised to hear that I got obsessed with the reserve's puffin cam, and especially cam 2 which showed a sleepy puffin being very cute and asleep for the vast duration of my viewing (a few hours) but I couldn't take my eyes of it.
The natural habitat of the Shetland Islands is what attracts me most and this brown signed destination has it in droves, but even reading up just a little bit about this place gets my adventurous juices flowing. Shetland Islands, you look ace see you very soon 🙂