Follow the brown signs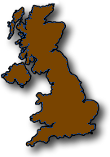 Luckily for me my best friend Beaker's brother Matt, who works abroad, has been back in the country for the last week. This is great for me because it means I get some variety in the person sitting next to me on my brown signing trips. People who don't have proper 9-5 jobs or children suit my needs brilliantly. Score. Matt's known me for a long time and was therefore totally unphased by my suggestion that we should get in the car and drive in a random direction to discover some brown signed attractions when he called to arrange a catch up.
I was lucky enough to be a book giver on World Book Night and had arranged for my 58 copies of A Fine Balance by Rohinton Mistry to go to a lady who runs book groups in prisons. She is a professor of Creative Writing at Roehampton University and (as it turned out) is an exceptional lady. So Matt and I thought we'd use the opportunity when dropping the books off to get discovering the brown signs around the west London/Surrey area. After a nice long chat in the university coffee shop (feeling a bit old and a lot out of place) with Professor Jenny talking about her book groups and what I was doing with my project we were raring to get brown signing.
We found (as I've noted before on the blog) a frustrating lack of brown signs in Surrey. I was bemoaning this fact when Matt grabbed the camera because he'd seen this sign. Knowing we were unlikely to happen upon racing at Sandown Park (and being wholly inappropriately attired) we hung a right towards the unique brown sign symbol telling us we were heading for Hampton Court Palace. I was a bit dubious about the prospect of a visit here though. The bigger the attraction and the more people there are to talk to about my project when I arrive the harder it is to get in for free or even talk to anyone who really knows and cares about the place, but we thought we'd try, so we drove into the expensive car park anyway and entered the massive hi-tech ticket hall. I began my explanation of what I was doing, said I was singing the praises of brown signed tourist attractions, highlighting the joy of spontaneously turning off the road when you see one and showing how brilliant going brown signing is as a way of discovering Britain. I added that I was doing it out of sheer love and not making any money from my pursuits so could we possibly get in for free/reduced entry.

My spiel was met by a stony stare from the cashier. Fortunately for me there were no other visitors in the room, which would have been embarrassing, however this did mean that the whole hoard of cashiers weren't otherwise engaged and were all listening and staring at me instead, so of course I went red and felt like a bit of a tool. Brilliant. Finally a chap who my cashier was looking at imploring to help in this uncommon and apparently stressful situation came over and said that I would need a press pass and go on a pre-arranged tour if I was to write about Hampton Court on the blog. I tried to assure them I was by no means a journalist (the thought of me getting a press pass for anything, even if it was just a visit to a palace, is hilarious) but their stony faces stayed stony and they continued to talk about online application forms and approval. I tried one last time to say that I was writing about noticing and visiting places like theirs when you see the brown signs and that I'd love to include Henry VIII's palace in the blog, but applying for a press pass and having a pre-arranged tour kind of defeats the whole point. Finally though the aforementioned chap made it clear that we had 2 options: fill out the application for a press pass and get in for free or pay the entrance fee and write what you like in the blog. Fair play really, but because I'm only employed as a humble waitress (who doesn't get to keep her tips FYI) I was in no position to stump up the hefty £16.95 entrance fee, so we drove right on out of that car park and left.
Ho hum, onto the next destination, which was, well basically wherever we saw a brown sign. We bypassed the sign for Sandown Sports Ski Slope, mainly because I had work at 5pm so we didn't have that much time, but also because I haven't skied since about 1996 and the thought of being covered in bruises after an hour brown signing wasn't that appealing. Happily though we happened up on this sign, and I swung a left.
St Georges church is a Tudor church in Esher, built in 1540 with various additions in the 18th Century. It's a lovely little hotch potch of flint, brick, sandstone, chalk, timber and slate and looks suitably old and welcoming. It is no longer used as a place of worship but is maintained by The Churches Conservation Trust as a church of historic interest (hence the brown sign) and is only routinely opened to the public in the summer months for a few hours on Saturdays. Of course we were visiting not in summer and it wasn't on a Saturday so we didn't get to go inside. Interestingly though the church is supported by a friends group who run an arts initiative called St George's Arts and the church is used as a venue for local creatives to showcase their work. They have an annual artist residency and run an impressive ongoing programme of exhibitions, music and visual arts events throughout the year. And what a great way to make a seemigly redundant but amazing old building relevant in our modern world. Without the active arts scene this church is unlikely to be frequently visited and therefore at risk of being forgotten, but bringing it to life and making it somewhere that brings people together reinvents and revitalises it, and even better people who may never have known anything about it visit and unintentionally get plugged into Britain's history. I just LOVE collaborations man.
After trying the door a bit too hard and getting odd looks from passers-by we pootled around in the graveyard looking at the graves of people who died in the 1700s and read the information board outside. Apparently Princess Victoria herself worshipped here when she visited her uncle at Claremont and as queen she came here with Prince Albert too. Having an immature sense of humour I had to take a picture of this gravestone: probably the most unfortunately named woman ever…


Yes that's right, Abigail Silly. Calm down Amanda, you're getting hysterical, time to move on….
Looking at the map I could see we weren't far from Guildford and now I've been getting my project known to local tourist information centres around the country (every single one in the British isles, yep, that's all 273 of them) I've spoken to lots of people who are very up for my project and Guildford Tourist Information Office employs just some of those people, so I decided we'd pay them a visit.
However, pretty early on into the journey on the A3 we began slowing to a grinding halt and found ourselves in a scene familiar to us all that looked like this…
Oh dear. We crawled along to the next junction 4 miles away which took around 2 hours. Joy. Guildford Tourist Information Office would have be visited some other time and now the race was on to 1) get back by 5pm and 2) stay sane. I find it hard to spend prolonged (actually even short) periods of time with people I don't know very well, I'm the biggest fearer of the awkward silence so this could potentially have been a terrible few hours for me. It was fortunate then that I was in the car with Matt because I didn't feel like a right old dickhead playing games like "Who Am I?" (some of our best ones were Father Christmas, Timmy Mallet, Matt's granny and the cashier from Hampton Court – that one took a while for me to get you can imagine) and "Encourage Other Car Dwellers To Copy Your Dance Move" (a great game I invented in a previous life spent on the road as a travelling saleswoman which has the advantage that it can be played alone, so I play it a lot, and get surprisingly good results too). We also played a game where a scenario was shouted and we took a photo of the results, yes we really were going that mental. Here are some of our favourites…
We've been sitting in this exact same spot for 28 minutes…
Just crawled along 20 meters without stopping…!
Your cat just fell out of a tree on it's head and it's lying motionless on the ground…
Amanda just said something funny (note Matt's fake laugh here. I wasn't saying anything funny, I was losing my grip of reality to be honest)
Think of the very worst naughty and wrong thing you've ever done: Bad guilt (great shifty eyes from Matt in this one)…
Just found out your dad/mum is having an affair with your girlfriend/boyfriend…
You're stranded on a drifting iceberg in the Arctic and a polar bear just ate the last of your provisions…
So, that was mainly how we spent the last 3 hours of our brown sign day. It wasn't the most successful day in terms of attractions visited but there was the usual mix of ridiculousness and mirth (directed mostly at me) so as far as I was concerned it was a good one.
Another "Amanda and Matt Go Brown Signing" blog is on the way folks and that one includes beavers, Ribena and Jammy-Dodger-eating-lemurs so stay tuned, it's gonna be a goody.