Follow the brown signs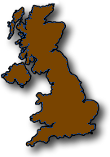 So this is me on Saturday at 6.30am after approximately 5.5 hours sleep and guess what, I was in a stinker of a mood. Anyone who's ever had the displeasure of being anywhere near me when I've had less than 10 hours sleep knows it's not a nice experience and the reason for my lack of sleep wasn't even from a night on the tiles, sadly no. It was after a hectic Friday night waitressing, where I made so many mistakes that I frequently wanted to burst out crying, so much so that even disappearing out the fires escape to smoke a lot of fags didn't help. And it was my poor sister, The Mose, who was on the receiving end of my bad mood in the morning. She's usually happy to spend the day with me, especially on brown sign days but, unsurprisingly, on Saturday she wasn't feeling it. She's also a great believer in pathetic fallacy and it was one of those dull rainy days that makes you feel a bit arse. Predictably then we lost our tempers and got in the car in silence with no idea where we were going, so I pointed us the direction of deepest darkest Kent and we huffed off onto the M20.
After a little while being in a mood though I find it gets boring and coffee and sticky buns from the petrol station seem to make everything just a little bit better, also The Mose finally chose a destination; Tenterden "the jewel in the crown of the Kent Weald" a mere 50 miles away, where there was also a museum shown in red on my AA map (thank the Lord for tourist maps. Pah! Who needs an iPhone?). Things were looking up.
Before reaching Tenterden however these brown signs caught my attention, so of course I hung a dangerously last minute sharp left at the junction. The first one was for a fisherie but we weren't massively up for sitting in the drenching rain, I was however excited about the sign with the windmill, church and museum on it.
We arrived in Woodchurch, a quintessentially Kentish village with 2 gorgeous old country pubs, a picturesque church and a welcoming community feel, The pubs didn't escape the The Mose's notice; first things first The Mose, to the Woodchurch Village Life Museum, then to the pub.
Outside the museum was this sign and it made me emotional. Signs like this usually indicate attractions that are eager to attract visitors but have little money to do so, and they are a very significant part of The Brown Sign Way…
I followed the sign and was heartened to find the small car park not empty (as is often the case with these off beat museums) and it was really lovely to walk into a little buzzing hive of activity. Well, when I say "hive of activity" it was actually just us two, four other visitors and two volunteers, so maybe I should say it was a "relative hive of activity" but either way it wasn't deserted, so I was happy.
We were greeted by (and I don't say these words lightly) one of the sweetest, most amazing museum men I've ever met, Geoff. He had love and dedication oozing from every pore and the minute I introduced myself and told him about my project to get people noticing and visiting brown signed attractions like this one he was enthusiastic and happy to chat. He showed us around the museum which he started from a collection of artefacts and pieces he began acquiring when he moved here from London in the '80s. He could see that old but important things that were once practical and integral parts of village life were becoming redundant and in danger of being thrown out, never to be seen again. He knew that if someone didn't preserve them then future generations wouldn't have an authentic insight into the way of life that had gone before them and he wanted to make sure they could. He also knew that every village has it's own identity and in an age where travel is easy and boundaries are virtually non-existent the unique qualities of Woodchurch could be forgotten.
Word got around and his collection of all things Woodchurch started growing, he put a notice in the parish magazine and slowly like-minded people who cared about the village's history started bringing him all manner of things which he showed at small private exhibitions. Geoff acquired the current barn to provide a permanent place for the collection and finally in 2001, with a little help from lottery funding, a lot of voluntary community support and local girl called Joanna Lumley to cut the ribbon, The Woodchurch Museum of Village Life was opened. It is now a diverse and rich miscellany which is still growing (the aforementioned visitors had some old hop sacks they wanted to donate) and includes an abandoned stagecoach found in a field, an uncomfortable looking 19th century toilet saved from the dustmen, tankards, coins and time pieces, all manner of agricultural equipment (especially hop related things being in Kent of course), a rocking horse, various transport vehicles including the old butchers' delivery bicycle and a milk float, photographs, letters and untold quirky pieces all telling their own stories of Woodchurch.
English village life has changed dramatically in the past 250 years and the museum shows how villages such as Woodchurch existed in their own self sufficient bubbles until the industrial revolution brought opportunity, wealth and dramatic change to the rural English way of life. People and goods could move more freely, competition increased, technological advances drove costs and prices down and so began the privileged way of life that we all live today; lives that are totally defined by our unbelievable wealth of choice.
The Mose's favourite part of the museum was the corner dedicated to the village pub, especially the old wrought iron sign that used to hang outside it (left). She loves the fact that pubs like The Six Bells (more on this later) are not just boozers but also play extremely important roles as the hub of the community and as many are now closing all around the country the way the community functions without them will have to change too. I liked discovering the little details of Woodchurch and the people who did amazing unexpected things in this small rural village. Like the man who took in 300 Jewish children from Germany in the 1930s, sent over to Britain to escape the atrocities that befell many like them, who slept in tents and disused train carriages on his land until proper lodgings could be found for them. And finding out about the American air base that was hurriedly built on a local farm, but used only in emergencies during WWII. Geoff put this old air strip to good use when funding for the museum was needed, he organised an annual air show called "Wings and Things" which ran for 18 years, sadly having it's final year in 2006. Amazing, I wish I bloody well lived in Woodchurch.
After seeing the museum we stood outside the old village phone box talking to Geoff in the rain (which he didn't seem to notice or mind) for an hour. He told us about his life and the evolution of the museum. He said he would soon be leaving Woodchurch and moving to Oxfordshire (I stopped myself punching my chest when he said that, I used to live in Oxford you see). When Jo and I showed surprise and asked if he was sad about leaving and not looking after the museum any more he said no.
Geoff is an astute man and he talked about the changing world of museums and very different expectations that modern day visitors have of attractions such as this one. He said he knew nothing about computers, had no interest in hi-tech exhibits and found the current trend to provide a more "hands on" visitor experience hard to understand. But instead of bemoaning these things he knew it was just the way things go and he liked the constantly evolving way of the world. "The museum should move on" he said "and for that reason I am leaving. I don't want the new group of people who look after the museum to be looking over their shoulders at me for approval all the time. I don't want to hold the museum and the staff back with my old ways, so it's only right that I step away and let it evolve the way it should". Luckily Jo picked up the conversation at this point because if I'd have spoken I think my breaking voice would have given away that I was (once again) choking back the tears.
I have so much respect for people like Geoff who start a museum from the sheer love and appreciation of things that can be so easily overlooked and forgotten. These people keep spirits and passions alive and they want to share these important things with us, the general public. But if we don't visit them then where are the very people they were opened for? My point is this: noticing the things that are all around us and taking the time to go somewhere you might not normally go enriches not only your life but enables places like The Woodchurch Museum of Village Life to keep going and sharing their important work with others. Great stuff Geoff and volunteers, and so many people like you all over the country, Britain would be a sadder and duller place without you.
We said our goodbyes after I realised I couldn't feel my hands any more and that my notebook was completely soaked through, next stop: the pub. No brown sign here but there was a local ale and cider festival going on, so needless to say The Mose was absolutely ecstatic…
We ate and drank heartily (isn't that what you're supposed to do in a country pub?) and talked about how brilliant Geoff was. Then I looked at the time and remembered I was working at 5. We did a quick cheers (mine's the half pint, I hope you're impressed), downed our drinks and left for a quick visit to the windmill…
The windmill was up a very muddy track between the pubs which we slurped and slipped up in the pouring rain. When we got there we found it was closed (as is often my luck) but we read about it, walked around it and generally appreciated it anyway. Funnily enough it used to be one of a set of 2 windmills commonly known as "The Twins" but sadly the "Black Mill" was pulled down in 1940. This mill was fortunately saved from demolition in 1979 and was restored, managed and now opened to the public by The Friends of Woodchurch Windmill, I would tell you more about them but I might burst out crying so better not, here's a picture instead…
Time was getting on and as we all know it waits for no man. Or woman unfortunately, even if she does have to be at work in a little over an hour, still has a 50 mile drive ahead of her and the only work shirt she owns is sitting wet in the washing machine needing to be ironed (semi) dry. The epitome of professionalism me. So we left Woodchurch pretty hastily doing the national speed limit (legal but probably not safe) and headed home.
What a quality day. I can't tell you how much I love little museums, local ale festivals and windmills. Nice one Woodchurch, you're excellent.