Follow the brown signs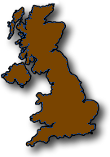 After my huge excitement at finding out this morning that it is in fact Roald Dahl Day today it seemed only right that I should visit The Roald Dahl Museum and Story Centre at my soonest convenience. Happily I was already heading Buckinghamshire way to work on the exciting design of my new website with a man who knows his Photoshop. So when we should have been sitting down to some serious work, instead, after my not-too-strong persuasion, we were getting into the car and heading off to Great Missenden. I do love my unpaid, money-draining job.
Everyone loves Roald Dahl. Mention his name to any passing person, young or old, and it's likely you'll get an immediate smile and some happy recollections of long afternoons spent reading a favourite Dahl classic. I, of course, also read Roald Dahl, but I have to admit I only actually liked reading some of his books, these were (in order of preference) Danny The Champion of The World, The BFG and Fantastic Mr Fox.
The others, I have to be honest, left me feeling a little bit anxious. The grown ups in Matilda, The Witches and The Twits for example really frightened me. I don't think it was because they were scary books, the scariness was intended, I knew that, I think it was because some characters were so horrid, cruel and gruesome that I didn't want to even imagine them. The nasty, ghastly people depicted in Dahl's books made me even more afraid of other human beings than I was already (which was/is apparently quite a lot!). Even when they got a pay back for their horrible deeds I still didn't really want to expose myself to them. Dahl certainly had a real Schadenfreude which I've never really understood and a dark sense of humour which left me feeling a little uneasy, but quite clearly his insight into, and the portrayal of, the minds children was remarkable, enough to get his young readers enthralled from the very first sentence. So despite the fact many of his characters scared me shitless and my apparent lack of dark humour, I loved his writing and can totally see how his books have been, and will remain, such popular children's classics. So, off to find out more about such a prestigious author and his work on his birthday.
The Roald Dahl Museum and Story Centre is right in the middle of the picturesque little high street of Great Missenden, you can't miss it, The BFG himself is walking around outside and its covered in swizzfigglingly funny words, see…
When you step inside this lovingly crafted little museum it's like walking straight into one of Dahl's books, with Quentin Blake's requisite illustrations, colour and action all over the walls, crammed into every space, filling you with a sense of nostalgia and excitement you get at the beginning of any of his stories.
I felt the museum had two main themes: "Roald Dahl the man" and "storytelling and writing". The exhibition rooms about Dahl are filled with his life and loves, with excerpts read from his memoirs (Boy and Going Solo), his photographs and the actual letters he sent home (he wrote to his mother almost every day while at school and every week thereafter, leaving the museum over 900 letters for their archives!). You start to see where the ideas for his books came from and understand the experiences that shaped his unique view of the world and his writing style, from his time spent at boarding school, holidays in Norway, fighting in the war and living in America. Behind the happy image we all have of Dahl writing in his famous little hut at the end of his idyllic garden in an arm chair, he was also a man who experienced terrible hardship and pain in his life, much of which he seemed to see as a challenge and deal with immense courage and bravery. Both his sister and father died when he was 3. His baby son was badly injured when his baby carriage was hit by a taxi in New York and suffered a condition known as "water on the brain". The valve used to drain the water from his son's brain often blocked so Dahl worked with surgeons to come up with a better solution, helping to invent a valve that bears his name, the Wade-Dahl-Till valve, which alleviates the drainage more effectively. The death of his 7 year old daughter from measles made him a strong campaigner for immunisation and when his wife suffered multiple aneurysms while pregnant with their 5th child he personally took charge of rehabilitating her, during which time she eventually learned to walk and talk again. He flew Hurricanes in the war, becoming a flying ace and intelligence agent, until finally retiring from service after the war ended when he really started to write in earnest. Roald Dahl really was a remarkable man with a fair few stories to tell and experiences that quite clearly fuelled his passion for writing and creating characters.

The second (and probably best for me) part of the museum was The Story Centre, judged at least in part by these 6 year olds haring around the place and making a lot of happy noises. This was the real heart of the museum and was all about getting the kids to start writing, and continue to write by providing them with a little Story Ideas Book which had space for characters, plots and storyline ideas. There were tables where the children could plan, invent, cut out, scribble and experiment with words and ideas and made the process of writing and imagining easy and fun. Characters could be evoked photo-fit style with sticky faces to cut out and stick into your book to help describe them fully and accurately later when you came to write up your story. Sadly the ideas table was a little too full of small children to do my own cutting out and sticking without embarrassment so I got stuck into Automatic Grammatizator and umm-ed and ahh-ed over the splendiferous quizzes instead.
Here's the brilliant Story Ideas Book, on the back are wise words "you can find ideas in the the most unusual places, so keep this book handy and write them all down, you never know where they might end up!"
"What will you put in your dream bottles?" Fantastic.
I love anything that gets children interested in doing things for themselves. I think the real joy of a brilliant book is when it gives the reader the inspiration to physically get up and do or achieve something for themselves, and when the book motivates the reader to write, well I like that even more. These children were certainly getting into the activities, collecting ideas for their stories as they made their way around the museum and writing down any made up gobbledefunk words that came to mind (children are good at that I find), it was all encouraged and commended, totally in the same vein as Dahl's books. Brilliant.
It being Roald Dahl Day and all there was bunting galore, and I do like festivity and celebration (here's a picture), but it wasn't just that it was a special day that there was a magical atmosphere at the little museum, it really felt like the people running the place were completely tuned in to what gets children excited and engaged with Dahl's writing. It was full of well thought out activities and fun things to do, and there was a perfect mix of author and his work which could only have motivated visitors, especially the little ones, to start and imagine stories for themselves. The storytellers employed at the museum brought Dahl's writing vividly to life, they were enthusiastic and passionate about the work of such an incredibly popular and fascinating man, and that passion is contagious – so good on you Roald Dahl Museum and Story Centre, it was spankfandiddleocious!