Follow the brown signs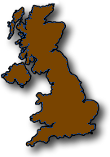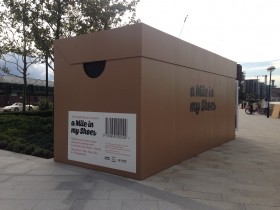 I've been excited about the opening of the Empathy Museum since I first read about its crowd funding campaign in August (through Indiegogo). The concept of a pop-up museum in a shipping container resonated with me immediately, not just because I'm rather fond of hosting random exhibitions in shipping containers given the chance but also because the museum's founder is Roman Krznaric, also a founder member of the innovative and life affirming School of Life in London and author of the book How To Find Fulfilling Work (a must-read for anyone struggling to find their place in the world, a 15 minute talk on which can also be found here). The real appeal of the Empathy Museum for me (apart from its fascinating subject, obviously) is the engaging and imaginative way the museum brings the concept of empathy to life. By inviting visitors to physically walk a mile in another person's shoes while listening to a sound bite they themselves narrate immerses one in a life we would have had little or no understanding of before. A genius and amazingly lovely idea right?
This museum is an example of how Roman Krznaric uses philosophy, psychology, cultural thinking and conversation to unpick and understand the world around him, expressing his ideas in ways that challenge audiences to think differently and ultimately realise we are in control of our lives if only we brush aside perceived societal expectations and allow ourselves to truly be as we really are. He is not only fascinated by humanity and how we humans have arrived at where we are now but also about how we can action lasting positive changes in our societies by understanding the fundamentals of what makes us all tick.
On a rather more amateurish level I too am a profound ponderer of humanity. I find myself questioning even the smallest aspects of the world around me and pretty much all my actions are driven by the desire to find out more about the complex intricacies of human beings. It is this insatiable desire to understand humanity and the world which is at the very root of my motivation to randomly follow brown tourist signs. At first I billed this project as a fun way to spontaneously kill a few hours and discover cool places one might never have been to through the fun and engaging medium of noticing a brown sign. But over the years my project has become far more meaningful than just that. I've gradually come to understand that it is about exploring what it is to be human and delighting in the fascination, awe and wonder that comes when we learn new things, speak to inspiring people and have our minds expanded by new ideas and stories.
As a psychologist I am prone to asking "why?" a lot more than most tourism bloggers out there and thus have found it hard to fit neatly into the travel/tourism blog genre. Although my website sings the praises of randomly following brown tourist signs on the surface, underneath there is a complex web of "whys" that I am constantly seeking the answers to. It is simply not enough for me to find myself at a lighthouse, to climb to the top and admire the view, have a quick read about when it was built and bang out a post about my trip. Instead I find myself wanting to understand the motivations behind the building of lighthouses in the first place, what the existence of lighthouses say about how humans have adapted to the geography of our planet and whether the desire to build lighthouses to avert the deaths of fellow human beings is something unique to the human race, and if so what implications this has/will have over time (I know, all a bit deep for a quick blog right?). I can get home after a visit to a brown-signed destination and pour over these philosophical questions for hours, even days, all the while my bookshelves becoming heavy with new information on the most esoteric of subjects, ranging from the development of the monastic physic garden to germ warfare and the societal and economic effects of hop harvesting in Kent during Victorian times. Ultimately though it is through this questioning and research that I gain a better sense of understanding of the human psyche, which in turn calms my own pathologically inquiring mind.
This practice I put myself through does mean I don't write many blogs about my visits any more. I'm not sure I've ever come up with any concrete answers to my questions (I definitely don't profess to be an expert in finding the right answers) and compiling all the research into a readable blog would take weeks which, even when finished, would probably put off those only wanting a quick post about why they should take a trip to a lighthouse anyway.
But with the insights I glean from my constant research I debate theories and propose my own hypotheses in my head (and sometimes on the blog) about how we can ultimately live together better, this for me is the ultimate goal. It is why economics and politics have always been extremely difficult concepts for me to grasp, so much so that I deliberately studied them in a direct attempt to get a grip of them, but the lack of focus on the individual and what it is about being human that drives the bigger economic and political picture means the subjects just don't resonate with me. In a long winded way I have come around to my point; the Empathy Museum and people like Roman Krznaric excite me because they explore the intricacies of the individual and other people too, which when applied in the real world will, I feel, make an enormous positive impact on how we can all live better together in our communities and indeed on a global scale.
Roman Krznaric proposes that the despite the fact 98% of us have the ability to empathise there are few of us who actually realise our empathetic potential. The ability of individuals to empathise and (importantly) to apply this empathetic skill while living out our daily lives, Krznaric argues, can make the difference between a society that is prejudiced, conflicted and filled with inequality and one that lives harmoniously together with minimal struggle and anxiety. Watch the museum video below to get inspired
It is a bold and affecting proposition which has been gaining more and more ground in recent years in academic research fields, religious and philosophical writings on the matter are being highlighted and (thankfully) it is also emerging in politics. See Barak Obama's summing up of the "empathy deficit" at the root of economic and society problems here…

Trying to reign in my excitement for stuffing my feet into some random's shoes and walking up and down the Southbank listening to their story was almost too much for me to bear but finally I got my chance on one of those conflictingly sunny/rainy autumnal day that renders whatever you happen to be wearing completely inappropriate for at least half the day – hashtag gottalovethatbritishweather. I assumed The Mose would jump at the chance to join me on this most exciting of museum experiences but astonishingly it turned out not so.
It emerged after some wretched face pulling during my description of the museum concept that my dear twin has an actual phobia of second hand clothes (when I made her pose outside her worst nightmare of a shop this is her repulsed face). I found it absolutely  hilarious as I don't suffer from this affliction at all, but as The Mose described experiences of physical sickness while accompanying friends into charity shops and even while standing in front of display cases of Inuit or Aboriginal traditional costumes at museums, I realised this was no laughing matter (for her at least). Of course I Googled her symptoms immediately and although couldn't find it as a specific phobia I found many others who suffered similarly (this one is particularly funny even though we really shouldn't laugh).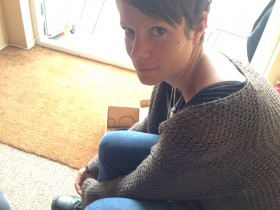 A phobia of clothes is called Vestiphobia and the Latin for "second hand" is Secundo Manum, thus I'm inventing a whole new phobia for Jo called "secundomanumvestiphobia". I think she feels relieved just to have it diagnosed to be honest. After much debate and chagrin The Mose did finally agree to come along with me, here she is experiencing high levels of secundomanumvestiphobia while donning her second-hand shoes.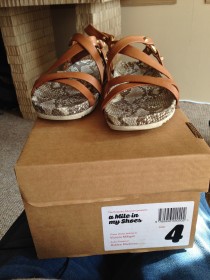 While I was fitted with my shoes I was warned that I had a particularly moving and painful story to hear while walking, but I didn't mind, in fact such stories were exactly what I'd come to experience. The lady whose shoes I would be walking in was called Victoria and yes her story was heartbreaking but it was also important to hear and I felt honoured that she was sharing it with me as I walked. There are 30 amazingly varied pairs of shoes and 30 appropriately diverse stories all waiting to be worn and heard within this big fantastic shoebox museum, ranging from a huge pair of waders, a glamorous pair of stilettos, tough work boots, roller-skates and a battered pair of flip flops. But the point is not to ruin the experience for others by describing the many stories of those who have shared them with the museum and its visitors, there are plenty (and will be many more, a BBC reporter arrived while we were there) blogs and articles written about the museum from where I'm sure you can get an insight into many stories if you so wish.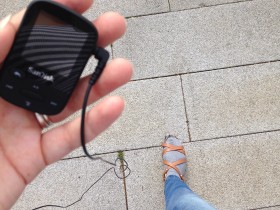 Visitors can be fitted for as many or as few pairs of shoes as they'd like to experience and through each one visitors gain a deep understanding of the person from whom they are temporarily borrowing shoes, all interesting and often moving pieces by normal people you'd see walking the streets everyday, fascinating snapshots in less than 10 minutes. The museum is not just a fantastic place to explore the joy of listening to diverse people talk about their lives, it also feels like a work of art in its own right. The key for me was not just hearing all the stories it was also about how they make one feel about other human beings. This experience is a rare one, where complete strangers open up and tell you their very deepest emotions and motivations, but in everyday life just because we don't hear these so freely they are all still there, for everyone. Imagining and accepting that people are often struggling, fighting their own private battles every day even though they may not be outwardly visible, I feel, is the beginning of what it is to be truly empathetic. Viva la empathy revolution 🙂