Follow the brown signs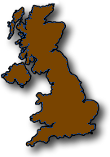 Reader, I just got back from the best weekend ever on the Isle of Wight. My boyfriend and I went on a brown sign jolly to discover this island county which fights a dual everyday with Rutland for the title of Britain's Smallest County (which it wins twice daily at high tide). To discover a little island through the medium of randomly following brown tourist signs is up there with bacon sandwiches and long distance railway journeys as one of my favourite things,  and as I've never had the pleasure of visiting this 148 square miles of loveliness off the Hampshire coast it was a pretty good place for a long overdue massive brown adventure.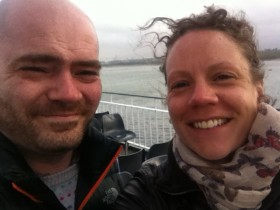 In true purist brown signers fashion we didn't do much research before we set off (read: I was too busy to organise anything) so we drove down to Southampton and boarded a heavily pitching ferry across the windswept Solent. I started getting excited when the smell of jacket potatoes, cheese and beans hit me from the restaurant (possibly the best traveling food ever I think you'll agree) and we settled down to our New Scientist (boyfriend) and far-too-little-too-late-research (me). Luckily Red Funnel Ferries dedicate a big wall to attraction leaflets and island information, as well as having a huge map up with other important Isle of Wight touristy parafinialia for the ill prepared yet highly excited brown-signer like myself to pour over. Looking at the map I was both heartened and daunted at the task that lay ahead, with the map showing everything from Roman mosaics to theme parks, garlic farms to lighthouses, crazy golf to military museums and fossil infested coastlines and heavy horse centres to explore. I decided not to be too upset that I wouldn't get to visit every destination on the map, I must try to sustain some air of normality in my life after all, so I let those cares fly away with the blustering-barnet-ruining winds on deck and decided to allow the brown signs to dictate our trip.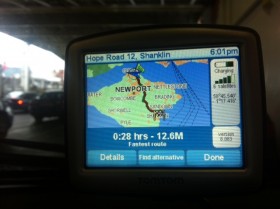 We were booked into a cute little B&B in Shanklin on the south east coast of the island, which also boasts the oldest attraction on the Isle of Wight, Shanklin Chine. The word "chine" literally means "yawn" in olde English and therefore any chine you happen upon is technically a geological "yawn in the landscape". This phenomenon is caused by coastal erosion and chines exist all over the Isle of Wight and Dorset. I'd never even seen a chine before but of course I loved them immediately.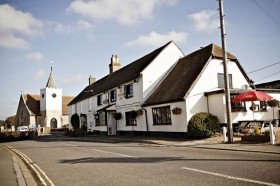 On the drive through the island I was made acutely aware of the number of tourist destinations on the Isle of Wight and how much stuff I wouldn't get to see on my rather fleeting visit, so I shielded my eyes to the beckoning brown signs as we headed off to Shanklin. The brown signed pubs on the way however did grab my attention so within an hour of checking in and unpacking/upturning my suitcase into a drawer we were sitting in the brown signed gorgeousness of The Pointer pub in Newchurch.
I ate a small cow and an equal sized amount of apple and blackberry crumble for dessert. Being teetotal until the 6th of June when my year of self imposed alcohol abstinence is up however I wasn't too bothered about staying to enjoy a post dinner ale so we got back in the car, with me chining all the way home and looking forward to a good sleep in my heavily-scatter-cushioned bed. My plans for a boring uneventful night however didn't exactly go according to plan when my boyfriend suggested a walk on the beach. I was already sinking into the bed being half swallowed by cushions and in little mood for a wet coastal walk but was persuaded to exit my nest with a promise that we wouldn't be long.
Now I'm not exactly one for romance but I'm very glad I was persuaded to go on that walk, because down on the beach the most romantic and amazing thing that has ever happened to me occured: my boyfriend only went and bloody proposed! Totally shocked but absolutely bowled over with happiness I put on the ring he'd spent the last 6 months getting made for me from the other side of the world and cried like a great big old girl. It was amazing. And so it was that I sat like a massive shocked rabbit in the headlights, looking out to sea on that brown signed Victorian promenade in Shanklin, feeling very happy indeed and wondering how on earth I was going to concentrate on any brown signing tomorrow at all… Perhaps checking in to a big expensive brown signed hotel qualifies as research, I thought… 😉