Follow the brown signs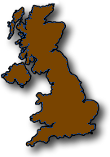 Day 31 and the Olympic torch continues its journey from Middlesbrough all the way down the coast to Hull, making just one detour from the coast inland to Pickering. I love this corner of the world, The Mose and I have been to the Scarborough/Witby/North York Moors a few times and done a lot of brown signs around there. We found a great fake-brown-signed camp site in Robin Hood's Bay and stayed at the legal-brown-signed youth hostel in Boggle Hole where every dorm is named after a shipping forecast area (and explains why I now care a little bit more about the weather in Cromarty than anywhere else).
Jo did Wainright's whole coast to coast walk last year and I joined her half way, the end point (after dipping your boots in the North Sea) is the aptly named Wainright's Bar at The Bay Hotel in Robin Hood's Bay and despite looking back and being proud of myself for walking constantly for 5 days, being awe-struck frequently by the gorgeousness of the hills and valleys, meeting some lovely people and enjoying some amazing slap up meals and beer, I did look and feel worse when I'd finished than I did after my marathon. See? (You can see the full album here if you're interested).
Jo and I did loads of brown signs around the area, including badger watching in a brown-signed forest, drinking in brown-signed pubs, wandering around abandoned and creepy brown-signed towns and squashing lots of frogs on brown-signed Roman roads. So in a desperate effort to catch up on the alternative brown sign torch relay I'll direct you to this blog which tells you all about them. Enjoy people 🙂