Follow the brown signs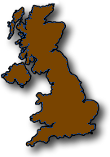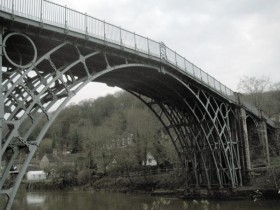 After a hectic few weeks at work serving the good customers of Bromley their Christmas party food and being run off my feet doing a million other non-brown-sign related pursuits I was very happy to be able to grab a few days off before Christmas. Rather shockingly I have managed to bag myself a boyfriend (who knew?! I'd actually written myself off there for a while) so I relished the opportunity to jump on the back of his motorbike (I'm not even joking) and head up to Shropshire, where he's from, to discover a piece of the country I've never actually been to before. First on the list of brown signed attractions was Iron Bridge, the first ever bridge in the whole world made from metal, cast iron to be specific, completed in 1779 (which incidentally has a nice unique symbol on the sign depicting said bridge but sadly it was far too much for me to unclasp my hands from their vice-like grip around Rob to take a picture of it for you, I'm such a motrobiking amature).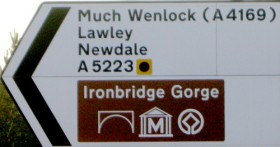 Luckily though I told my boyfriend's (just thought I'd get it in there one more time) parents of my woe at not being able to photograph the sign so they went out and did it for me (so cute), and here it is in all it's glory (it's even got a UNESCO symbol on it too, impressive. God I'm a nerd).
The bridge spans the River Severn at the picturesque Severn Gorge and is of such historic significance that it was declared a UNESCO World Heritage Site in the 1984. The bridge was designed and built for the practical purpose of crossing the gorge more effectively than using a ferry but it was also a great way to showcase the skills of the iron workers of the the nearby foundries who were churning out the iron which was helping build Britain's Industrial Revolution. The mid 1700s were a time of huge technological and scientific advances which paved the way for the very privileged lives we lead now in our machine driven modern world. New ways of doing things were being experimented with all the time and people who saw the advantages of pushing boundaries had the opportunity to shine. The bridge was originally the brainchild of a local ironmaster called Thomas Pritchard who planned the bridge completely, only to suddenly die a month after all the plans were finalised. The project was then taken up by a Mr Abraham Darby III who sold shares to make up the bulk of the capital needed and agreed to personally pick up any short falls in order to get the bridge built (which, unfortunately for him, were many). The bridge was still in general use up until the 1930s when it was finally declared an ancient monument and traffic was barred from it, but pedestrians still had to pay the toll to cross it until 1950!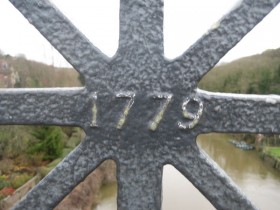 It's hard (but important) to imagine when crossing the bridge and admiring the view from the middle, 60 feet above the fast running river below, that this huge feat of engineering and 5 years of determined hard work casting iron on such an enormous scale was hardly even thought possible when it was being built. We are so used to doing things like crossing bridges and not thinking too much about how they were made possible that it's easy to simply not appreciate them for the significant and ground breaking achievements they really are. The Iron Bridge was granted UNESCO world heritage status because it stands as a symbol for the great leaps forward that were made during Industrial Revolution, and the innovation and dedication that Britons like Pritchard and Abraham had when they took huge risks and tested boundaries which ensured their mark was stamped on history forever.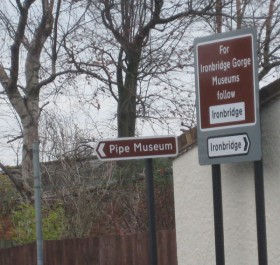 The Ironbridge area saw a huge boom in mining and industry during the 1700s, mainly due to the rich local natural resources that existed around Shropshire which were quickly exploited. New factories emerged producing high quality items made predominantly from iron and clay and began being shipped worldwide. The rich clay was used to produce various products including ceramics, tiles and even pipes. We saw this brown sign for the pipe museum, which I was pretty excited about visiting, but sadly found it closed for the winter.  Boo. The smell of a pipe is enough to make anyone nostalgic and I love feeling nostalgic.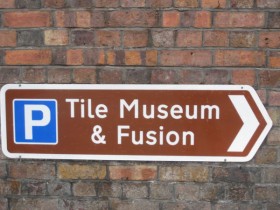 Moving on then, next we spotted this sign for a tile museum, and as that sounded just as random and unique as the pipe museum we turned right off and paid them what I thought would be a quick, but actually turned out to be a rather long visit. Jackfield Tile Museum is on the site of the original Victorian Craven Dunhill and Company tile factory, which still manufactures gorgeous handmade tiles to this day. Jackfield village sprung up as a thriving community around the mid 18th Century due to its close proximity to the river Severn and the nearby tile factories. Mr Powell Dunhill of Craven Dunhill broke the mould of the normal factory owner of those days and genuinely cared about his workers, encouraging them to study, take holidays and building houses for them to live in. Nothing better than a Victorian philanthopist I say so I loved reading all about him and the lives of his massively engaged workers. Sadly though the story of Jackfield doesn't have a very happy ending as eventually the very thing that brought it to life was it's ruin. The combination of constant quarrying and mining of clay in the area over 100 years, the relatively hap hazard, ad hoc building of houses and the proximity to the river made for a rather disastrous end, when in the 1950s, after a bout of bad whether the village started quite literally slipping down into the river below. Here's the actual newsreel of the demise of Jackfield which, despite the desperate hope of villagers, no amount of water pumping could save…
JACKFIELD VILLAGE
I watched this film again and again at the museum, it's so creepy it's almost unbelievable (why am I so drawn to creepy stuff?!) and I walked around afterwards thinking about how the things we have built up around us in this modern world are actually so fragile, hinging on the whims of uncontrollable natural events which could in an instant destroy everything we thought we knew and could rely on. After the massive landslide Jackfield never recovered, a complete community wiped out and a thing of the past… Scary.
The rest of the museum was dedicated to tiles and was packed full of gorgeous pieces that the factories produced over the last 200 years, from fine artistry to practical tiling which is amazing but not often appreciated. The best way to get this point across was by decking out full rooms showcasing the tiles versatility, I'll never look at a tiled wall or floor in the same way ever again. My favourite room was the glorious Victorian pub room, which unfortunately you couldn't get behind the bar of to pull imaginary pints like I would have done, which was disappointing because I've always quite fancied myself as the buxom grinning barmaid throwing down frothing tankards of ale in front of gurning old soaks belting out an unprovoked rendition of "Um Pa Paa Um Pa Paa!" every now and again… sadly though that dream dies a little more with every that passes. Here are some pictures (you'll just have to imagine me in the red shabby dress sporting an enormous cleavage pulling the pump provocatively I'm afraid)…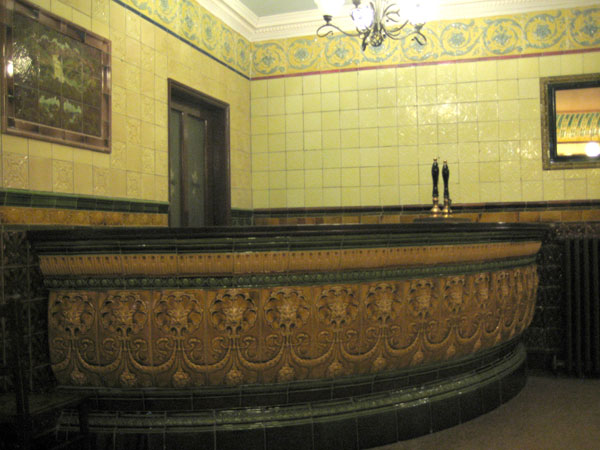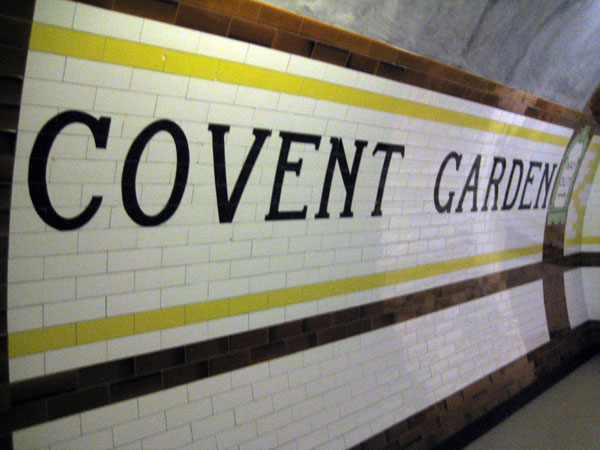 Being the massive nerd I am I was also very excited to see a huge tiled wall exactly replicating Covent Garden Tube station. Wherever I am in the world you'll often see me standing like a moron taking pictures like this one when things really grab me and make me stop in my tracks while everyone else around me seems to be running by not noticing, and the decor of the London Underground always does this to me.
In fact one of my favourite photos is the one below. While pootling around London on my own feeling a bit bored and lonely one day last year (oh I miss the comfort in being sad too Kurt Cobain) I decided to take the steps instead of the lift down to the tube at Covent Garden. It was more to avoid sharing a small space with lots of people I don't know than anything else (my very worst thing as you know) but when I started walking I began noticing the intricate tiling and beautiful design of the walls in this now virtually unused space. It made me sad that those people all sharing the lift down to the platform were missing out on appreciating the joys of these hidden gorgeous walls which were designed not just for practical purposes but as a treat for the eyes too. Everything from the type face, spacing, finish and colour combinations was appealing. So I took a picture and vowed to never take a lift ever again (the quickest route is always the shittest route if you ask me).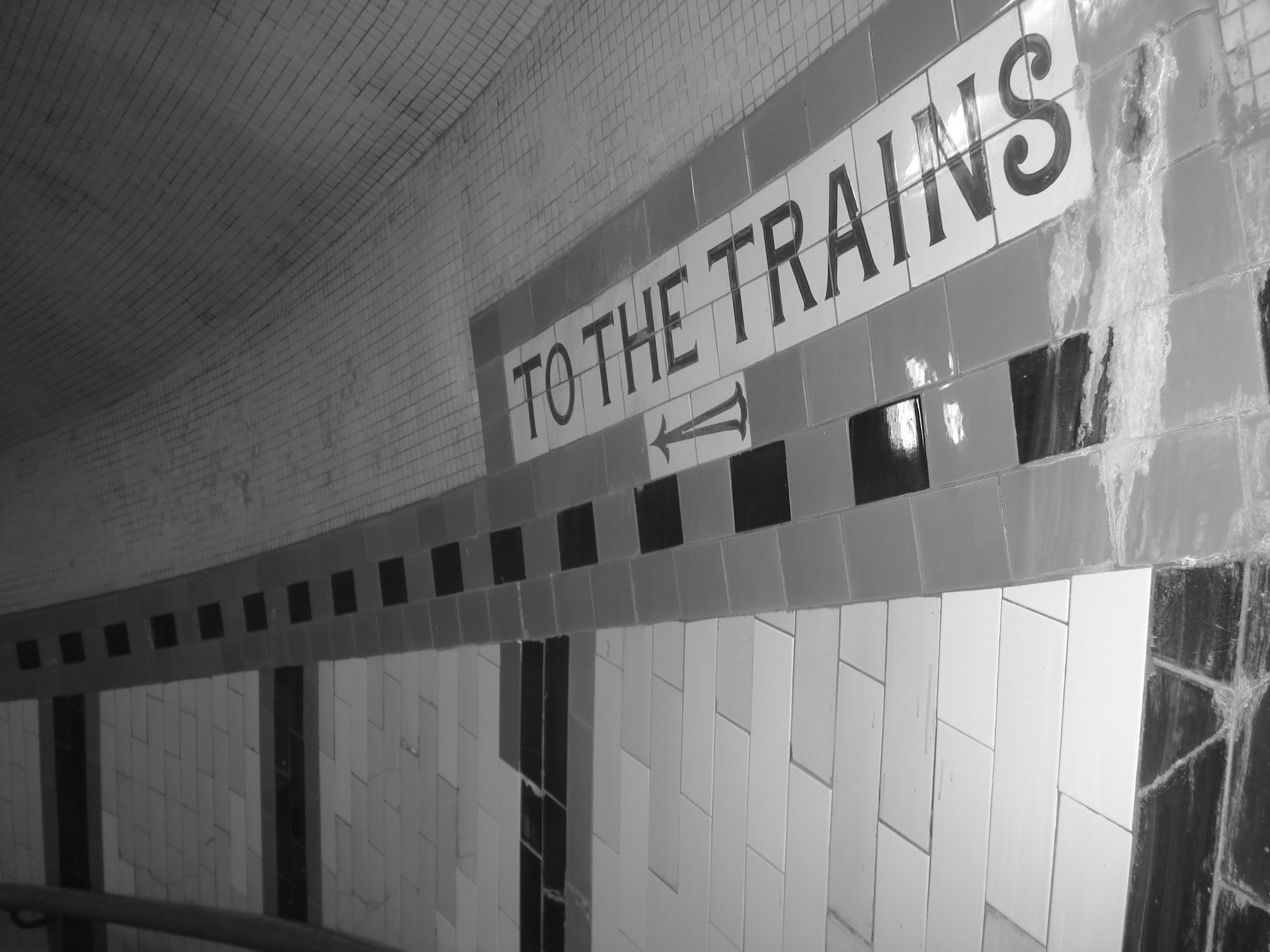 Little did I know that only a year or so later I'd be standing in the very same building that these tiles were designed and manufactured in. Looking at this photo again made me very proud of the museum and that it's still going after all this time, sharing it's triumphs like the London Underground tiling with the world. Class and quality is timeless, so rock on all you tile makers everywhere, you're important.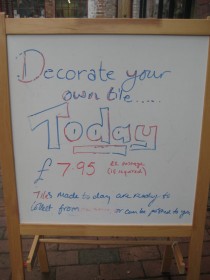 Talking of tile makers… On our way out of the museum, after learning about the intricate techniques of pressing clay into moulds, shaping, decorating and firing, I spotted this rather exciting sign. Now my new boyfriend didn't really know me well enough at the time to realise that when I see the potential of doing something like decorating my own tile that I'd become almost hell bent on doing it. We had a conversation about how it was getting late and we should be heading home, I agreed that we should and we began the walk to the exit, but the thought of leaving there without actually doing the thing we'd been seeing and learning all about was just too much for me, I had to overrule leaving and instead pulled my dubious boyfriend into the workshop.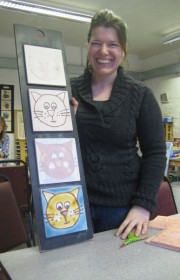 We were met by Jennifer who had worked at the workshop for years, she runs educational school visits and helps visitors like me who don't know the first thing about tiles get a proper experience of tile decoration. There were lots of templates and ideas for what to decorate your own tile with, my inspiration was easy though, it had to be a brown sign. Jennifer told us about the different iron compounds that could be dabbed onto the white base which would be fired and turn a completely different colour. I was absolutely loving it, even if I did need some help with the piping work. Only a few days later my fired tile arrive in the post, on Christmas Eve in fact, it was the best Christmas present ever (because I'm a bit of a sap like that). Here is some of the process…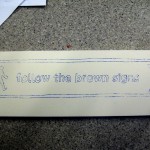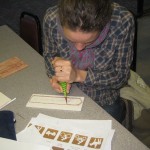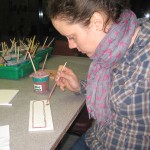 And this is the end result… Cooooool huh???!!!!
I love it.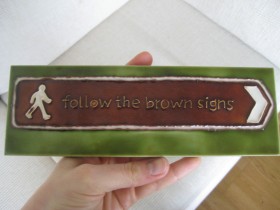 What a brilliant way to finish off a visit to a tile museum, by decorating a unique tile all of your very own. It was ridiculously cheap to do and have posted to you, and Jennifer's time was invaluable (she pretty much had to wrestle my tile off me to stop me from mucking it up completely and finished it off herself!) and she made the last part of the visit the best part with her enthusiasm and encouragement. What a great place, makes me want to shout even louder than I do already about the joys of following random brown signs. Thank you everyone at the Tile Museum, you are brilliant.