Follow the brown signs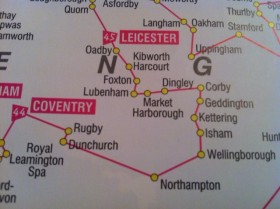 The Olympic torch travelled from Coventry through the Northamptonshire countryside and up to Leicester today. This area is well stocked with canals and waterways so I decided to feature a watery attraction of my alternative brown sign torch relay.
Just outside the brown-signed town of Market Harborough is Foxton, where there's a very intriguing lock system which was built to enable boats to navigate between the junction of 2 canals – the old Leicester and Northamptonshire Union Canal and the Grand Junction Canal which lie on different heights. The boats need a "lock staircase" to enable them to climb or descend the hill and enter the other canal. These locks consist of 10 levels or stairs going up the hill and is one of 6 lock staircases in Britain.
Foxton locks were built in the early 1800s and although they allowed connection between 2 waterways it took (and still does!) 45 minutes to pass through, meaning a bottle neck of boats waiting can often build up. A solution to this problem was to build a lift system (like the Anderton Boat Lift in Cheshire) and work began on one to help relieve congestion in 1900. It was known as the "Inclined Plane" but this complex system also had its problems and didn't prove to be a commercial success, closing just 10 years after it opened. The remains of the boat lift can still be seen and there is a museum dedicated to the fascinating locks where visitors can find out more about all the fascinating engineering.
Foxton Locks can take many boats at one time and so it attracts many visitors, or "gongoozlers" as nerdy boat watchers are often called! A nice piece of waterways and industrial heritage here in Foxton guys, and who would know unless you followthebrownsigns.com?!