Follow the brown signs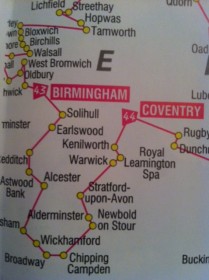 Today the Olympic torch travelled from Birmingham to Coventry in a big U shape, taking in Solihull, Chipping Campden and Royal Leamington Spa along the way.
I pricked up my little ears when I heard the torch's destination because I happened to go to university in Coventry, for 3 whole weeks in 1998. I dropped out pretty spectacularly after finally admitting to myself that I'd only gone there because I had mucked up my A-levels and managed to bag a random place through clearing, not because I actually wanted to spend the next 3 years of my life studying there. I was desperate to get a place anywhere and leave for uni like my sister and everyone else around me, but 3 weeks in I found myself more and more unhappy, which wasn't helped by being right out in the sticks and isolated from the main campus (that's what happens when you get your accommodation so late).
The final straw that broke this camels back was when I rang the pay phone on my friend Steve's corridor in his Manchester uni halls of residence (we didn't have mobile phones back in the day) and we chatted about what we'd both been up to in our new lives. He told me he had a hangover and that he'd puked all over the bus on the way home the night before. I had to admit to not having puked on any buses last night or any night in fact, and didn't face the prospect of any bus-puking in the near future either. I know it sounds stupid that the decision to leave university came about because I hadn't been sick on a bus, the thought really wasn't that appealing, it was more about what Steve's story stood for and about how much he was doing at uni which stood in stark contrast to my uni experience. I knew I would have to change my life and try again properly to get into the university I wanted to go to and to ensure things like living in halls (not a house on an estate in a room with no natural light) and meeting other students, so I phoned my mum and that amazingly supportive lady came and got me the next weekend.
Once I'd made the decision to leave I felt a weight had been lifted, I enrolled over the phone immediately at my local college to retake my A-levels and called my old boss in a department store coffee shop asking for my job back. Things were looking up and it was then that I started seeing Coventry in a fresh, rather less depressing, light too.
The cathedral at Coventry and indeed the whole city was famously severely bombed during WWII, destroying the medieval city almost completely. Work began to rebuild Coventry the day after the fateful night in 1940 but the new buildings and town planning could never replicate the character and appeal of the gorgeous city as it used to be (code for "pretty ugly"). The cathedral, which I'd never really paid much attention to, is right opposite the uni and on one of my last days in the city I paid it a proper visit.
The cathedral site is actually 2 buildings – the newly built cathedral inaugurated in the 1960s and the bombed out ruined structure of the old St Michael's church (designated a cathedral in 1918). I'd never really thought about the significance of these buildings, I'm not religious and I guess I was too busy thinking about what I was doing with my life to care, but during my visit there I started to really think about this place and just being there was quite a powerful thing. The ruins remain on the site and have been preserved as a reminder of the folly and terrible pity of war, they are dramatic and inspiring to walk around and now the space is used for outdoor performances and provides an atmospheric backdrop for a variety of arty events. The new cathedral is modern and refreshing, drawing heavily on sculpture and art with amazing modern stained glass windows in the celebration of Christianity.
The thing that struck me most there though was the strong message of hope and reconciliation born out of the bombing and the links that have been made between countries, especially Germany, with whom messages and icons of peace have been exchanged. Dresden, a city which allied bombers razed to the ground during the war is one of the many cities that Coventry is twinned with and actually it was the first city in the UK to be formally twinned with another city, Stalingrad, during WWII. The cathedral website details the history, message of hope and interesting important work the people here are doing, both on a local level and throughout the world, I got lost in the history for quite some time, it's worth a read.
As ever a visit here, as with pretty much anywhere I've ever been along The Brown Sign Way, is inspiring and meaningful and it thoroughly deserves to be featured on Day 44's alternative brown sign torch relay. This cathedral might ooze the inspiring and meaningful in obvious spades but every brown signed destination has it's own unique story to tell and at each one it is always worth looking for… now get brown-signing, and keep telling me all about your adventures 😉