Follow the brown signs
OK, today I've been so busy working at my proper job that actually pays my rent that I've had to speedily choose a brown sign for today's Alternative Brown Sign Torch Relay of Britain, not that it makes it a bad one, oh good golly no.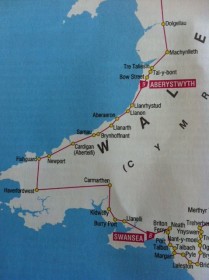 The torch travels north from Swansea to Aberystwyth today, mainly along the rugged coastline and how fabulous it would be looking on a day like today too. Finally when I had time to log onto my favourite website of the moment www.London2012.com the live location function was working and I could see the torch just arriving in Aberystwyth. I was immediately interested in the attraction marked on the map, the Cliff Top Railway, the longest electric clifftop railway in the UK apparently (impressive). I haven't featured any trains on my alternative torch relay and as regular readers know I do like a good steam railway (and there does happens to be one in Aberystwyth) but I thought singing the praises of an electric train is important to keep the blog unbiased.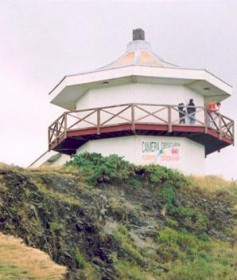 When I had a look at their website to find some interesting things to tell you guys I read something that made me do an involuntary whoop for joy. I found out that the electric train doesn't only take passengers along the clifftop on a lovely scenic trip it also takes you to a camera obscura. WOW!
I've been fascinated by camera obscura's since my dad took me to a Magnum photography exhibition in London when I was about 8. Along with some seriously inappropriate graphic war images (that I took home with me and into my nightmares) there was also a photo that really grabbed me. It was a scene of a hotel room but overlaid seemed to be a scene of an upside down urban landscape. It was a photograph taken on a camera obscura which is an effect made by darkening a room completely apart from a small hole where only a small amount of light can enter. Because of some complex reasons that I can't explain very well about the way light works and our retinas (or for a much better explanation see here) the scene outside is projected onto the opposite wall upside down. Pretty cool no? Discovering this effect was part of the very beginnings of photography and understanding the mechanics of how it works paved the way for modern photography (and don't I just love the beginnings of things?).  Have a look at some absolutely belting pictures taken by a camera obscura photographer extraordinare here.
This camera obscura in Aberystwyth has 360 degree views around it's whole clifftop setting and what a scene that would make, I'd love to see it, even if it is upside down (in fact totally because it's upside down).
More quality brown signed attractions to get you going "WOW!" tomorrow guys 🙂