Follow the brown signs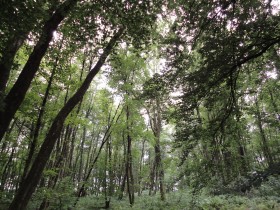 Ahhh Wales, I've always had a soft spot for you and now here we are running through your valleys and mountains enjoying your gorgeous rusty scenery… oh happiness. I really really love Wales guys, can you tell? So the map on the London 2012 website shows us that the torch is being relayed from Cardiff to Swansea today, up to the edge of Brecon Beacons National park down then south east and finally along the coast to Swansea. An area of green on the map above Bridgend caught my eye so I zoomed right in. This greenery turns out to be Bryngarw Country Park, 113 acres of country estate complete with country house (built in 1834), gardens and woodland. I fancy metaphorically roaming free today as in reality I find myself sitting staring out at a ridiculously sunny day from my dark restaurant window 🙁 so this country park fits the bill perfectly.
This estate was opened to the public in 1989 since when there has been a big push to really preserve and protect this gorgeous natural environment so the general public can see it in all it's glory whenever they visit. The park is very varied and includes formal gardens with pristine lawn, shrubbery, lake and oriental gardens as well as wooded broadleaf, coniferous and mixed woodland with areas of meadow, wetland, freshwater and orchards. The mission statement of the park goes like this:
"Through the provision and maintenance of a mosaic of habitats, rich natural environments and historic formal gardens, with targeted access and interpretation; to provide a 'bridge' for visitors, linking people and nature, past and present, urban and countryside, heritage and natural history, and so to give access to the full range of physical, mental and social health benefits which that connection brings". 
The mission statement shows just how passionate these guys are about getting people involved and enjoying the country park (they welcome 2000 children a year on school visits alone!). Over the last 25 years their hard work has really paid off as in 2010 and 2011 they won the Green Flag Award for providing outstanding levels of conservation, preservation, sustainability and provision of public amenities and services. When I spoke to the very nice ranger, Keith Douglas, he told me that these awards really meant a lot and that recently all their work cutting paths, clearing overgrown woodlands and applying for grants to help repair the abandoned country house had all come finally to fruition.
I did a quick search on Twitter and these tweets were enough for me to get the idea about how lovely this place is, here are just a few:
@danahmorgan – Having a lush time with my man lying in the sun with a picnic in Bryngarw park
@EleanorrMariee – Off to feed the duckies down Bryngarw park! 🙂
@marcwebber – Hello @BryngarwTeers -thanks for the follow – love Bryngarw Pk and your work #treasonswhyiamproudtobefrombridgend
@bekky_llew – Might take my revision to Bryngarw park.. desperate times cause for desperate measures!
and this one! I'm not even making this up…
@BridgendBites – What a fantastic day, must go out for a cycle up to #Bryngarw Country Park (M4 J36 and follow the brown signs)
Excellent efforts all round, it's clear why the rangers here should be really proud of themselves and long may all their hard work and public enjoyment of the place continue. Keep going 🙂