Follow the brown signs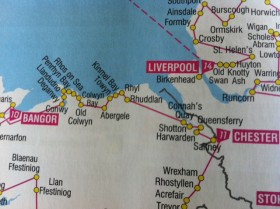 Today the Olympic torch is being relayed from Bangor, just south of Anglesea, along Wales' north east coast then back just across the border to Chester.
The live location tool shows me that the torch is coming up to Rhyl so I did a bit of research around the area and got interested in a church which is commonly referred to as "The Marble Church". It's in Bodelwyddan which is a few miles south of Rhyl so it just about counts as being along the torch relay.
The church was commissioned by Lady Willoughby de Broke in memory of her husband. It took 4 years to build and she laid the foundation stone herself in 1856. Technically this church is called St Margaret's Church but is better known as The Marble Church because over 20 different types of marble were used in it's construction, including local Welsh marble but also Irish, Belgian and Italian too. The church is packed full of things to keep visitors who follow the brown signs amused and showcases 19th century religious art at it's finest through it's stained glass, sculpture and stone carvings. The lectern, an intricately carved eagle on a rocky outcrop is just one example of the amazing details in the church, which should be amazing because it took over 6000 hours to carve! The church itself was designed by the architect John Gibson who was also part of the team who designed the Houses of Parliament.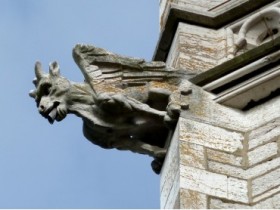 The outside of the church is dotted with gargoyles and carvings of local dignitaries. One carving of a lady, which is thought to be Lady Willoughby de Broke, looks sad and forlorn (missing her husband we assume). The graveyard is noteworthy because it's where 83 Canadian soldiers were buried when a flu epidemic swept through their camp in the nearby Kimnel Park Military Base during WWI. The graves are the classic war graves of bright white arranged in lines and kept in immaculate condition by the Commonwealth War Graves Commission, a surprising element to be found in a Welsh 19th graveyard.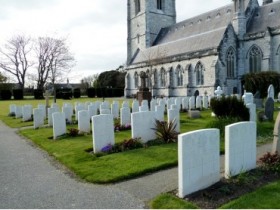 The church looks absolutely gorgeous to me and somewhere I'd totally be turning off the road to investigate and spend some quiet time in. You don't need to be religious to appreciate amazingly gorgeous places like this and to marvel at the things people do in remembrance of a loved one. Wales' equivalent to the Taj Mahal if you will 🙂