Follow the brown signs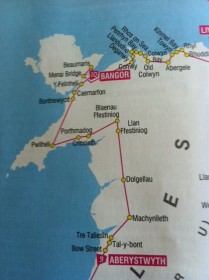 Today the Olympic flame travels north from Aberystwyth, going part-way down Wales' pointing finger to Pwllheli, then out again and up along the coast on the Menai strait (between Anglesea and the mainland and where I ticked off my equestrian centre brown sign on my big trip of Britain) and on to Bangor. The torch's journey includes a little detour to the top of Snowdon on the steam train that I did a video about for the Fan in a Van competition, God I love it there so bad.
I was interested in Pwllheli, mainly because it has 6 consonants in word of 8 letters and I haven't got a clue how to pronounce it but also because I've travelled all over Wales many times and never actually been down it's finger. I had a look at things to do in Pwllheli and saw that Cardigan bay is famous for it's dolphins and sometimes even whales which swim in it's waters.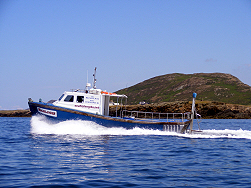 Boat trips are popular and I found a man called Tony who launches his boat, The Highlander, from the brown signed marina (win!) taking people out dolphin and whale watching, on fishing trips and also wildlife watching on Bardsey Island (which is the island Wales is pointing at). Bardsey is well known among twitchers for it's multidude of birds that populate the island as it lies on many of their migratory routes. A monastery was established there in the 6th Century and although it was subject to Henry VIII's Dissolution of the Monestaries and part demolished in 1537 the abbey ruins still attract pilgrims from across the world.
This is what these guys say about themselves:
"Tony & Jayne Bruce have been running boats to Bardsey Island – Ynys Enlli – for over 16 years. The Highlander sails from Pwllheli taking in some of the most stunning scenery the UK has to offer. The voyage from Pwllheli to Bardsey takes in the southern extremity of the Llŷn Peninsula ending at the historic Bardsey with its Abbey ruins, Bird Observatory and wide variety of flora & fauna."
Loving the people who love where they live and want to celebrate everything it has to offer with us, the general public. So just follow the brown signs to a marina people, you might be surprised just how much you can see from a boat.