Follow the brown signs
I'm researching Kent's agricultural history at the moment and you won't be surprised to hear that hop growing has featured strongly in my reading. Kent used to be literally covered in hop gardens and orchards, which is where the nickname "The garden of England" derives. In their heyday hops were a profitable crop for farmers because the beer they were used to make proved a cleaner and less harmful substitute for water when large scale water filtration systems didn't exist, thus weak beer was the staple drink for most people (including children!).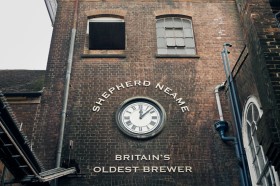 My research got me interested in the brewers who bought most of the locally grown hops and I came across Shepherd Neame in Faversham, which also happens to be Britain's oldest brewery. I got excited when I saw they did regular tours and got straight on the phone to The Mose. Convincing her to go on a brewery tour is like throwing a stick for a dog, shouting "fetch!" and seeing whether it belts off at 100 miles an hour to retrieve it. And so I found her minutes later strapped into the passenger seat of our mother's car (mine's broken and I'm ignoring it) with her tongue hanging out in eager anticipation of the trip. After I'd wiped her chops and managed to calm her down we set off down the M2 into the Kent countryside.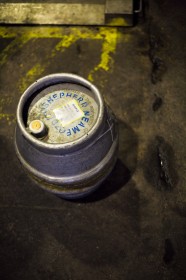 Unbelievably the Faversham Brewery has been brewing beer under various directorships and company incarnations for 312 years. Established in 1698 the  brewery was built on a site not far from the current location where monks first began drawing fresh spring water from their well to brew a beer-like medicinal drink. Over the years the company has evolved and moved with the times to become the passionate, still family owned and successful brewery it is today. They're very proud of their heritage and still run a yearly steam train from London to Faversham at the annual hope festival in honour of all the east end hop pickers who came in their thousands every year to help pick the hops before the days when machinery hadn't replaced humans on our farms.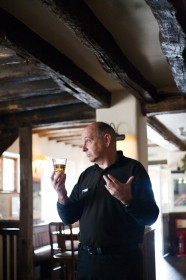 Shepherd Neame brew lager as well as the traditional ales and hold the license to brew some international brands including Indian Kingfisher, Japanese Asahi, Chinese Sunlik and Dutch Orangeboom (incidentally some of my favourite beers). So next time you're in the curry house like I was on Wednesday night (nothing  like a cheeky mid week curry is there?) you may well be supping a beer brewed a little closer to home that you might have thought. We got taken around the brewery seeing the different stages of brewing from beginning to end with every process explained about the intricate stages of heating, cooling, yeast adding and filtering. We got to taste the different levels of malted barley which dictates the darkness of the beer and had a munch on fresh hops (which I regretted, very bitter FYI).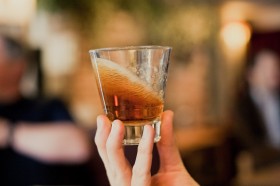 The tasting of the beer was clearly the best part of the tour though and Jo got stuck in. I had a few but felt instantly drunk because apparently I've turned into a lightweight and also I was driving, dull to both. We weighed up the tastes and flavours on the back on our tongues like we were told and I pretended not to be going cross eyed.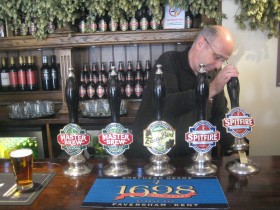 Then we sat for a while in the visitor's centre (which is basically an actual pub, my favourite kind of visitor centre) talking about the love and dedication that goes into brewing beer. It's the reason why I love going on tours of places like this because you get to really immerse yourself in where something comes from. Seeing the end product is so much more meaningful when you've experienced the process of it's making all for yourself. So the moral of this story, as always, is… there's a hell of a lot out there to go and see, sometimes you can even get drunk doing it (bonus) and it helps you appreciate the beginnings of things, everyday things we don't often think how we came to have at all, which I think is important.