Follow the brown signs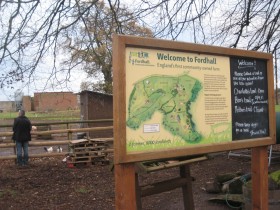 While I was up in Shropshire before Christmas I was told by my boyfriend's best mate about a farm he did legal work for who were in the process of applying for a brown sign. I'm always particularly interested in new brown signed destinations because when owners are bothering to go through the lengthy process of getting and paying for their own humble brown signs more often than not they're passionate about what they do and want to share it with the world. I went straight onto their website to have a look and found to my joy that this was no ordinary farm.
Fordhall is an organic farm just outside Market Drayton in North Shropshire. It offers the visitor a gorgeous homely tea room and restaurant, high quality farm shop, well marked trails to walk, a multitude of events to take part in and an abundance of farm animals to make farmyard noises at. All in all a visit there is a pretty rounded farm experience, but the thing that makes this place so amazing is that it's a thriving example of what can be achieved when insightful, passionate people don't compromise on things that really matter in life.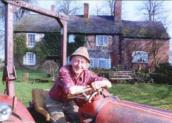 Fordhall Farm's tenancy was taken on by Arthur Hollins in 1929 when he was just 14 years old after his father died. The land he inherited had been ravaged by the desperate efforts to feed a wartime population and Arthur, like most British farmers both then and now, was faced with the prospect of farming his malnourished fallow fields with fertilisers and chemicals just to keep them going. This astute farmer though noticed the significant difference between his malnourished fields and the rich, thriving woodlands growing happily all around the farm. He knew that despite intensive farming his land could be brought back to life if mother nature was allowed to recover herself. He made the decision to stop spending vast sums of money on chemicals that were artificially keeping the fields alive and just let nature do it's thing and fertilising it with just good old animal muck. It took time, but soon the farm became fully organic and by the 1950s Arthur had built up a pioneering dairy farm producing the first ever live yoghurt in the country. His mission was to educate and inspire others to see that sticking to organic natural farming techniques was the only sustainable way of keeping agricultural produce high quality and showing that moving away from forced, mass production was important for many different reasons. He opened a "country club" where school visits, academics and interested people could stay on the farm and get a real hands on experience of Arthur's message. Tragically in the 1970s his wife, with whom he'd built up the successful dairy and yoghurt business, died in a car accident. The dairy business subsequently folded but the farm kept going producing organic meat which was sold and also served at the intimate farm restaurant, renowned for big roasts where the guests, not the chefs, were the ones wielded the carving knives.
During the early '90s though the farm really hit hard times. The tenancy was threatened when the landowner saw potential big bucks in selling off the farmland to the ever growing nearby Müller Dairy and the farm's prospects were looking bleak. By 2001, after the fall out from the Foot and Mouth crisis hardly any meat was being sold, eviction notices ensued and more and more of the farm's money was being consumed by legal expenses. Two old friends of Arthur's though were convinced that with hard work and dedication they could keep the farm thriving. In 2003 Arthur's 2 children from his second marriage, Charlotte and Ben, were inspired by their determination and started the fight to stay. Finally, after lengthy bitter struggles, in 2006, just 24 hours before the family were to be evicted, Charlotte and Ben secured a new 18 month tenancy by selling shares in the farm to thousands of people from all over the UK (and indeed the world) for £50 each. This produced the cash needed to pay the landowner and saw them become the first farm in the UK with a community landlord.
The farm still produces top quality meat which is sold in the farm shop and the message about the importance of keeping natural, sustainable farming techniques alive continues. Events at the farm range from music festivals to outdoor classroom sessions which help engage visitors and keep the rapidly dwindling link between land and table prominent. I was massively impressed when we met Charlotte and chatted upstairs in the newly converted barn for ages about her dad and the farm's ethos. We talked about the pros and cons of what brown sign symbol would best suit the farm's newly approved brown sign application (little cup or wheatsheef?) and how important it was to get people visiting the farm, not just to keep it going on a business level but also for the good of the whole local community.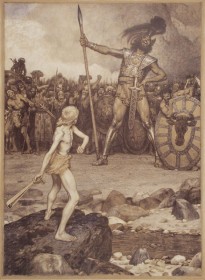 Fordhall Farm is blazing a trail in their initiative and determination to preserve ancient ways of life that work in line with nature and people, and by selling shares in their farm to over to over 8,000 people it just goes to show how many people think they are worth protecting too. The rapid growth and changes in agriculture has been phenomenal which I think makes farms such as Fordhall more important than ever. If we don't sit up and take notice of these huge changes and appreciate what could be lost it'll be too late. I hope that many more farms under threat can be inspired by Fordhall's example, they are living proof that the lay man and the local community can emerge triumphant if only we don't compromise on the things that are really important… everyone reach for your catapults now please.